Using Nextdoor to plan a Big Lunch fit for a royal!
Joanne Boal from East Belfast, Northern Ireland wanted to bring her community closer together, so she founded the Ravenhill Group on Nextdoor – a popular social app designed to connect neighbours.
In 2018, Joanne used Nextdoor to start planning a very inclusive Big Lunch to celebrate the Royal Wedding. The day was such a success, Joanne and her neighbours held a Big Lunch again the year after, which had a huge impact on the area.
People are more willing to give and get help and Nextdoor has made it easier to help each other out during difficult times, in practical day-to-day ways.
Making a difference
Speaking about The Big Lunch, Joanne said: "The turn out last year was fantastic – people from all backgrounds, faiths and nationalities joined in to celebrate our community. Local businesses were also on hand to help with the catering. One of my favourite aspects of The Big Lunch is that it helps to bring different ages together – from toddlers to pensioners, everyone joins in and has a great time with one another."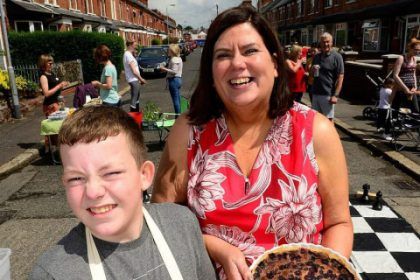 Joanne has been recognised for her community spirit and was chosen by Nextdoor as one of seven UK winners of a Good Neighbour award.
Why not…
…join community champions like Joanne and bring your community together with The Big Lunch?