Sowing the seeds of community initiatives
Our Community Camp programme (now including the Introduction to Community Action course) has sparked over 1,000 community initiatives across the UK since it started. Discover three of those bright ideas…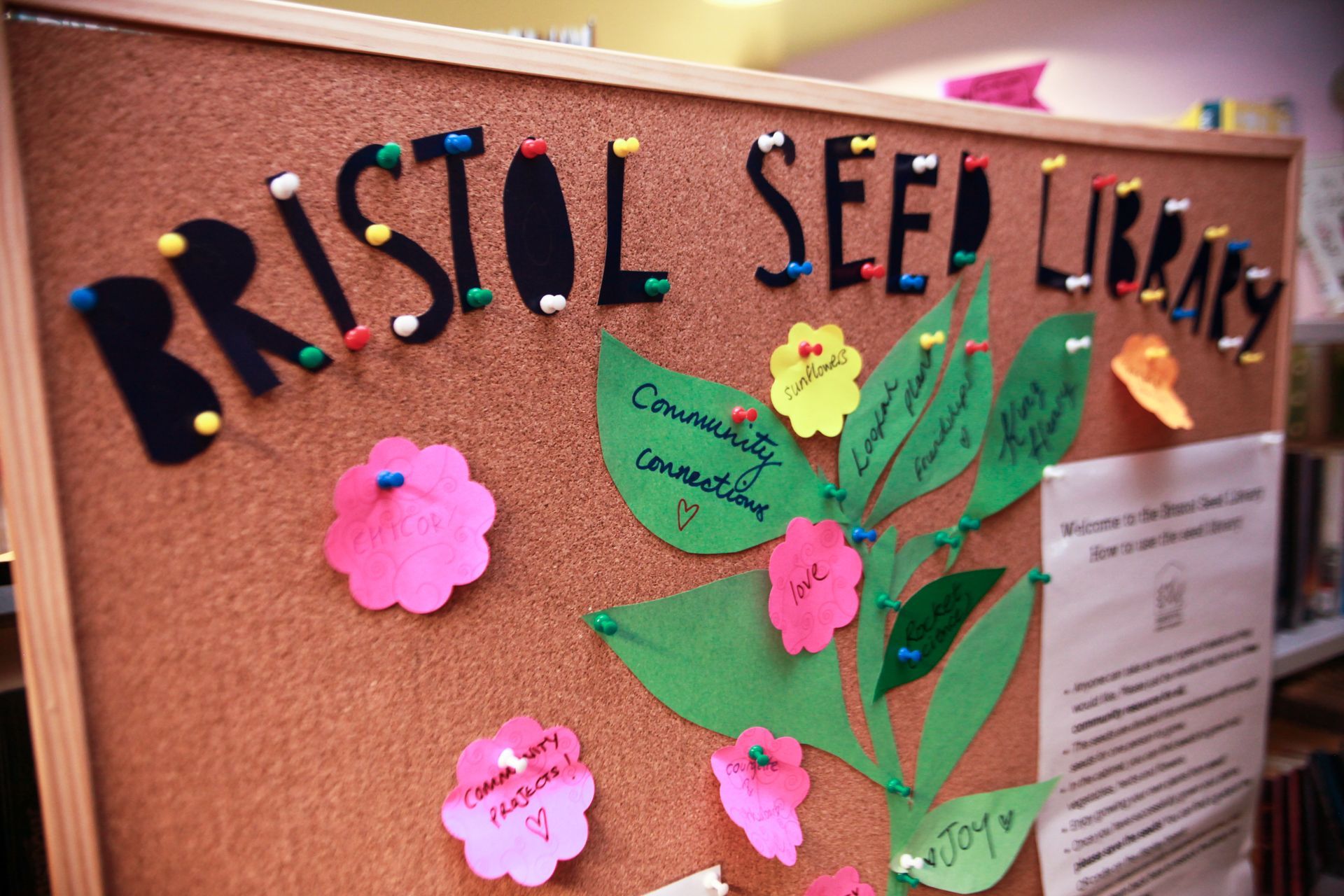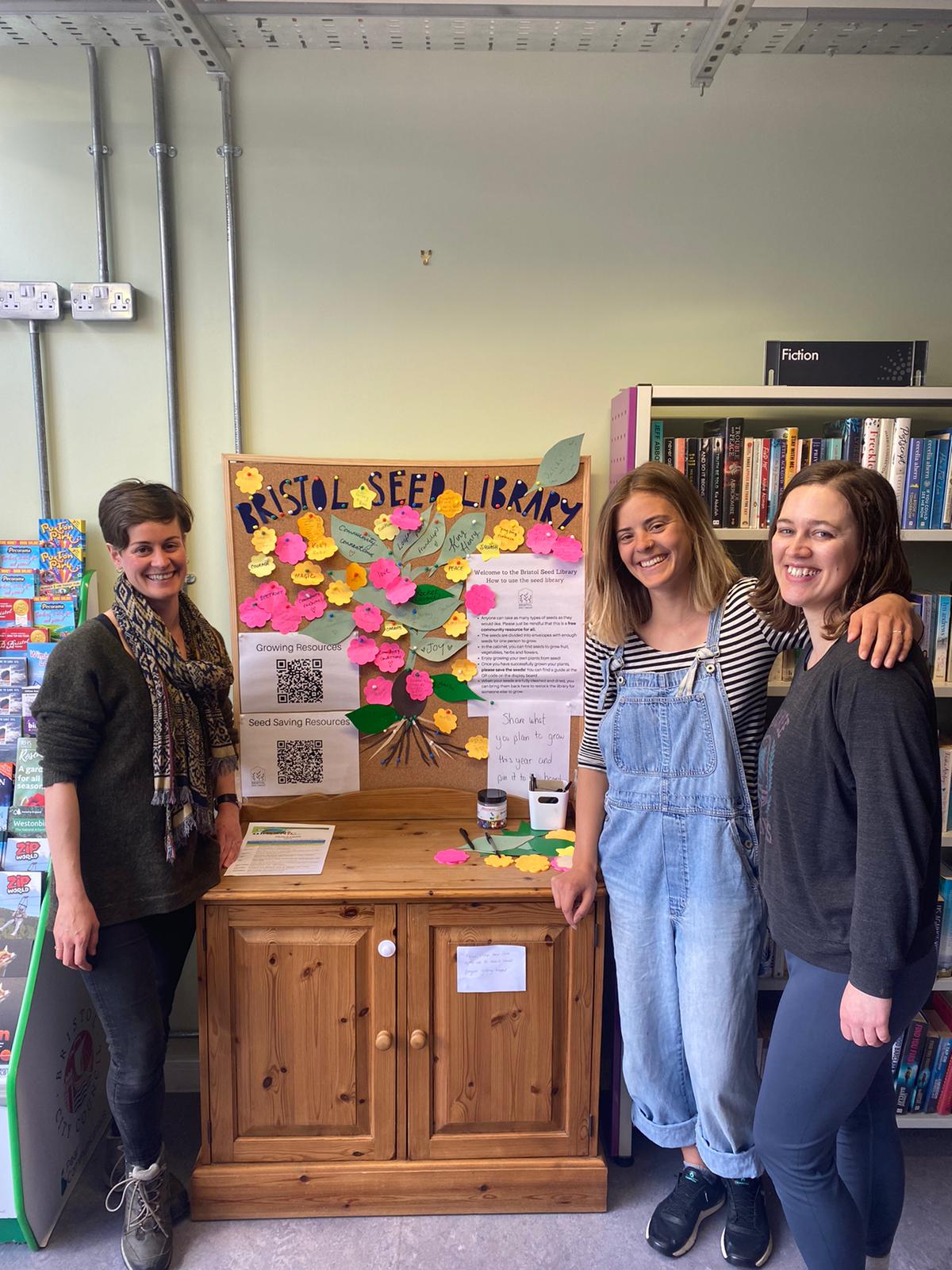 Bristol Seed Library
Emma Lewins, 29, attended our Community Camp programme in 2020 and went on to found Bristol Seed Library a year or so later. Emma's journey started when she realised she felt disconnected from her community, despite having lived in Bristol for over a year. As well as starting volunteering roles with local charities GoodGym and Aid Box Community, Emma signed up to our online course.
Spurred into action, Emma soon connected with two other local women, Jess and Jas, who shared her vision of an initiative linked to nature that would benefit the community. The idea for Bristol Seed Library was born, and the trio got in touch with Bristol City Council to develop their project.
A self-sustaining idea
Less than a year later, Bristol's very first seed library launched. Housed within Bishopston Library, the service offers a wide variety of seeds and aims to encourage local people to develop their growing skills and connect with nature and one another. The unique library is split into fruit, vegetable, herb and flower shelves, and is already proving popular with residents, who are encouraged to spread ideas and inspiration by sharing what they're growing on a pin board. Emma is hoping Bristol Seed Library will be supported to expand across the city.  
Emma says: "It's a long-term project but so far it's going really well. The idea is that it's self-sustaining – you can save the seeds while they're in bloom or while they're in harvest and return them to the library for others to take. It's brilliant to be able to provide people with seeds who might not have thought about growing before, or might not be able to afford it. We're really excited to see how the project develops!"
It was a great way to learn new skills and meet other people doing great things. I didn't know what I wanted to do but came out with a clear idea of what direction I wanted to go in. It's led me to a project that's helped me feel so much more rooted in my community.

Emma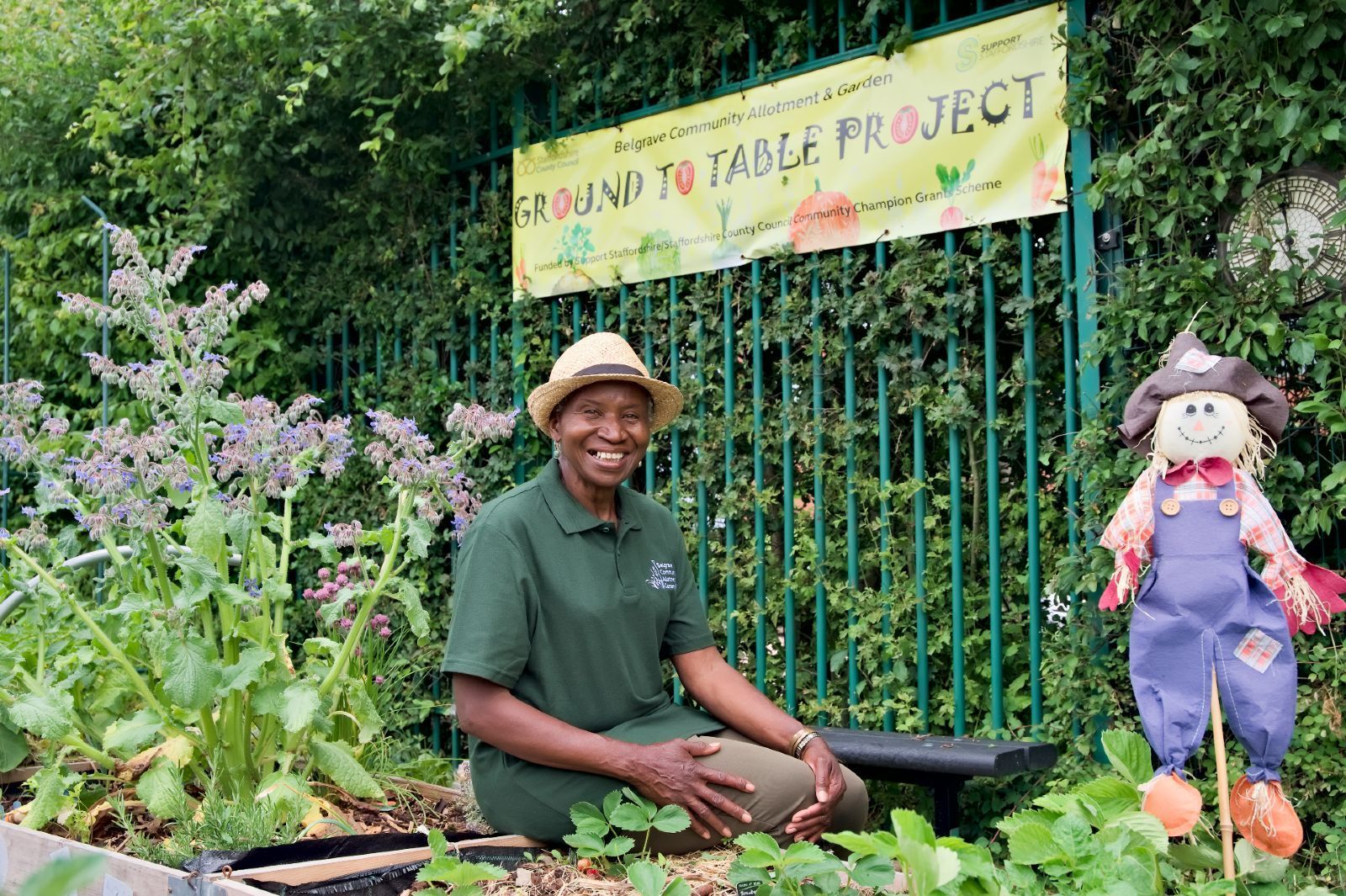 Belgrave Community Allotment
Etheline Deer, 71, lives in Tamworth (Staffordshire), where over the last eight years she's helped to transform a disused green space into a thriving allotment and garden that has enabled local people to connect with one another and the natural world. She attended our online course in 2023 and was inspired to hold a Big Lunch for the very first time. 
A lifelong advocate for the power of community, Etheline began running a social club for Afro-Caribbean seniors when she retired in 2012. Two years later, she heard that a piece of land was being donated to senior citizens in a nearby council estate. Keenly aware that not everyone in the community has the privilege of their own green space, green-fingered Etheline jumped at the chance to get involved! 
Etheline joined forces with a small team of five other volunteers and together, the group has worked tirelessly on a limited budget to create a community allotment offering 15 shared beds, an orchard, wildlife pond, wellbeing garden and even a wormery!
Bringing The Big Lunch to the community allotment
These days, it's a welcoming green oasis where anyone who wants to can take part in allotment activities such as learning more about horticulture, planting and harvesting fresh food and enjoying some social time and fresh air. As a result, people from underrepresented and disadvantaged groups who use the space are less lonely, more connected and healthier, both emotionally and physically.
The allotment's doors are wide open to the whole community and over time, close partnerships have been established. Staff at a fire and police station next door regularly pop over, a nearby Memory Café uses the space to support people struggling with dementia, local corporates come to help out, vegetables are donated to food groups and children from nearby schools grow herbs, onions, carrots, strawberries and much more at weekly sessions of a Ground to Table project.
In 2023, Etheline attended our online course and was inspired to hold her very first Big Lunch. Despite rainy weather on the day, nearly 30 people got together for curry, games and new connections. In fact, Etheline enjoyed the day so much she held another Big Lunch a month later for the Month of Community, when luckily there wasn't a cloud in the sky! 
"I'm a people person and my children were worried I'd be twiddling my thumbs after retiring, but helping to establish Belgrave Community Allotment and Garden was a perfect outlet. It incorporates everything I'm passionate about – community, green spaces and environmental issues!"

Etheline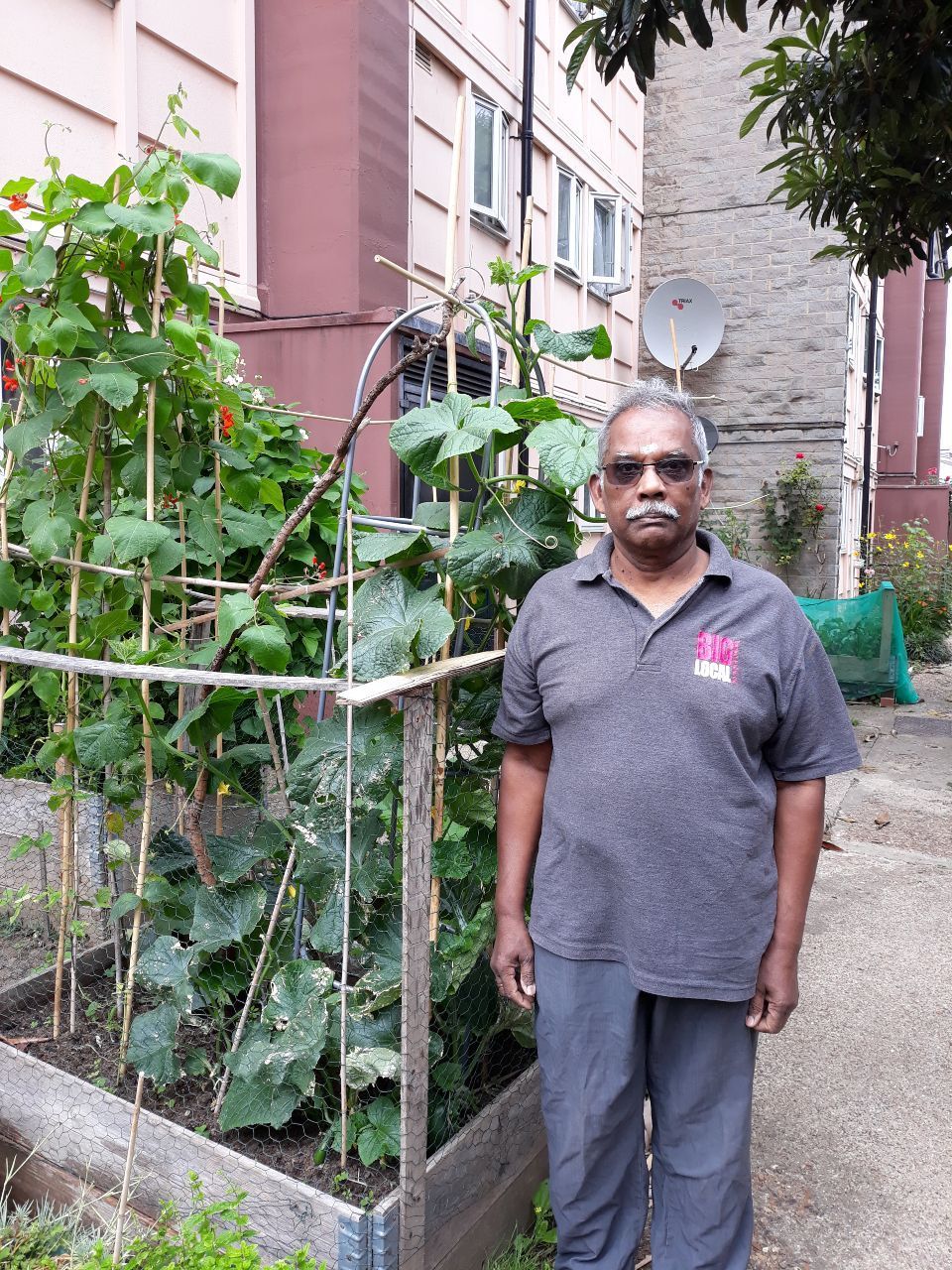 Community garden in Shepherd's Bush, London
Mutthu Karappan is aiming to reduce loneliness and isolation in Shepherds Bush by setting up a gardening scheme to support his elderly neighbours to connect and start growing their own food. The 75-year-old hopes to see community spirit in full bloom after being inspired to take his passion for plants to the next level on our Community Camp Programme.
Since moving to the UK from Malaysia over 20 years ago, Mutthu has always been an active member of his community. After spending the last two decades developing his knowledge of subjects including community leadership and gardening in deprived areas, and taking part in befriending schemes, recycling projects and digital exclusion courses, Mutthu was keen to branch out on a community project of his own.
Spurred on by the isolation seen during the height of the pandemic, Mutthu attended our online course. He's now establishing a project combining his love for gardening and community connections by supplying hand-produced seeds to his neighbours and sharing his expertise during gardening lessons for small groups. 
Mutthu said: "I spend a lot of time in my community and volunteer for a befriending scheme, so I know that a lot of older people are bored and lonely, especially since the pandemic started. I also love gardening and have always grown as much fruit and vegetables as I can, so I'm hoping to start producing my own seeds and motivating others to get outside, come together and start growing their own food." 
It was really useful, and everyone was so enthusiastic about my ideas! It was great to make connections – you can't do everything alone and it's so important to pass on your skills and knowledge.

Mutthu
Joanne's experience
Our Scotland and Northern Ireland Country Manager Grainne chats to Joanne, who attended our Community Camp Programme and went on to organise a Big Lunch in her community.
Do you have a bright idea?
These stories all feature environmental projects, but our fully funded course is for anyone who wants to support their community, whatever that might look like!