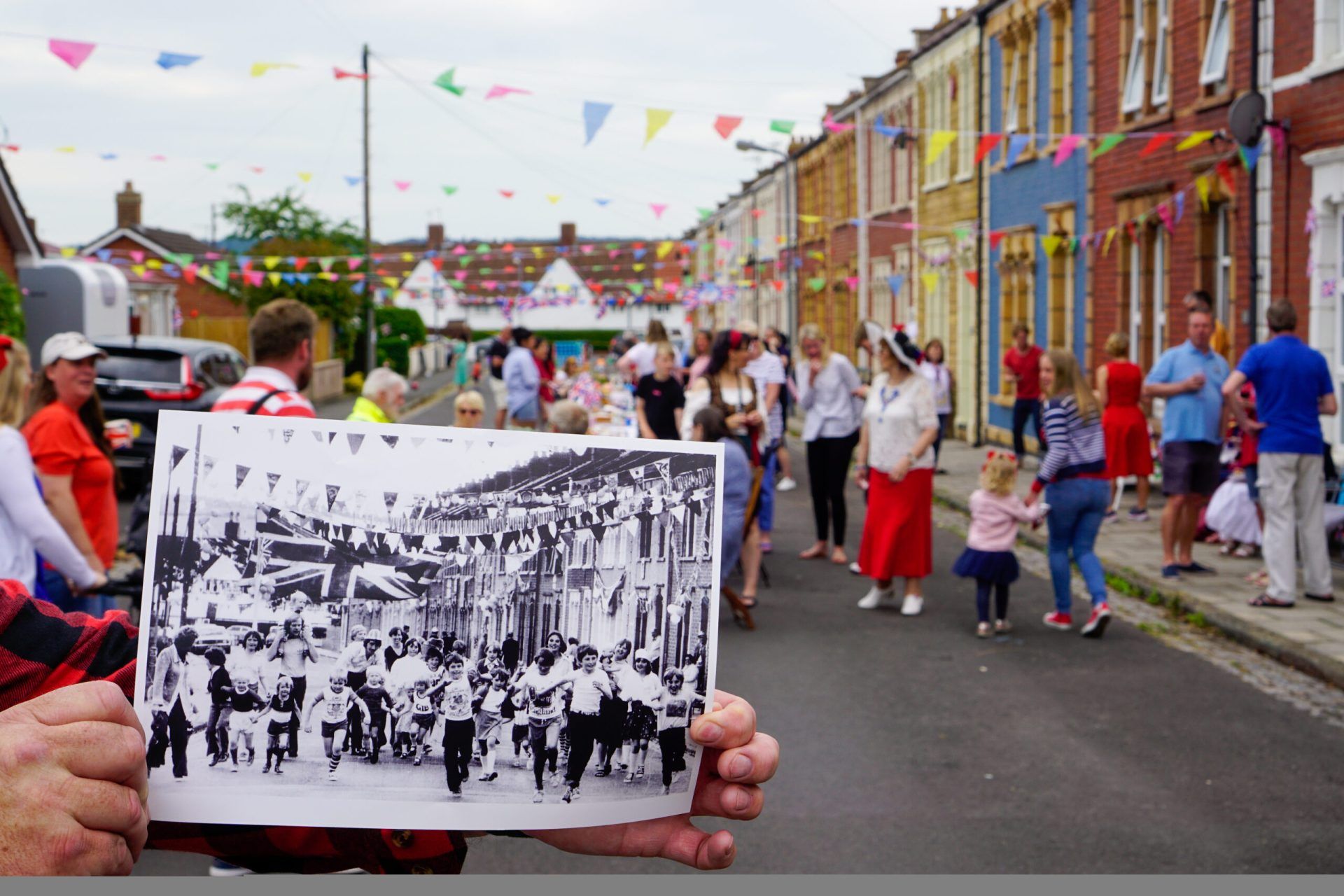 The Big Lunch through history
We started with a very simple idea from the Eden Project. What if, on one day a year, people came together with their communities and shared a meal?
And so, in 2009, The Big Lunch was born. Since then, it's grown and grown – with millions of people taking to their streets, gardens and neighbourhoods for a few hours of community, friendship and fun every year.
Over the years, we've had reasons for extra-special celebrations – and what better than a Big Lunch to bring people together? Discover some of our highlights since 2009.
Big Lunch events since it began
of attendees have a stronger connection to their community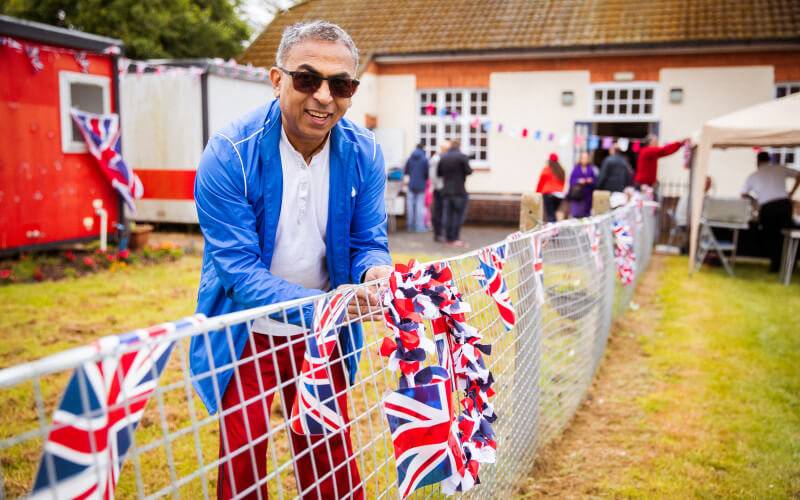 The Big Jubilee Lunch
In 2012 and 2022, we had the honour of being an official part of the late Queen's Diamond and Platinum Jubilee celebrations.  
An estimated 6 million people took part in The Big Jubilee Lunch in 2012 to celebrate sixty years of her reign, from the Isle of Lewis in the Hebrides right down to the Isle of Wight. The largest in Greenwich, south east London, hosted up to 10,000 people! The celebrations extended worldwide, with Big Lunches held in Nigeria, Afghanistan, Islamabad, Delhi, Durban, Kathmandu, on the Polynesian island nation of Tuvalu, and even in the Arctic Circle. 
10 years later, a whopping 17 million people took part in The Big Jubilee Lunch for the Platinum Jubilee weekend – our biggest event ever! See the wonderful thank you letter from the late Queen.
Big numbers for

The Big Jubilee Lunch 2022
Longest Big Jubilee Lunch: 800 metre picnic table at the Long Walk, Windsor Castle. The Earl and Countess of Wessex joined thousands at a bring-your-own Big Jubilee Lunch 

 

Close second: Morecambe Bay, 5,000 people at 2,500 feet of seafront tables

 

Biggest Big Lunch: 10,000 people came together at a massive multicultural celebration in Preston

 

In London, the former Prince of Wales and Duchess of Cornwall joined a special Big Jubilee Lunch for 400 guests at the iconic Oval cricket ground 

 

Most westerly event: a huge picnic at Enniskillen Castle, Northern Ireland
Most northern event: The Shetland Isles, where the whole community came together for an intergenerational Big Jubilee Lunch
In Wales, events big and small took place from Criccieth to Cowbridge, Llanharry to Llanidloes!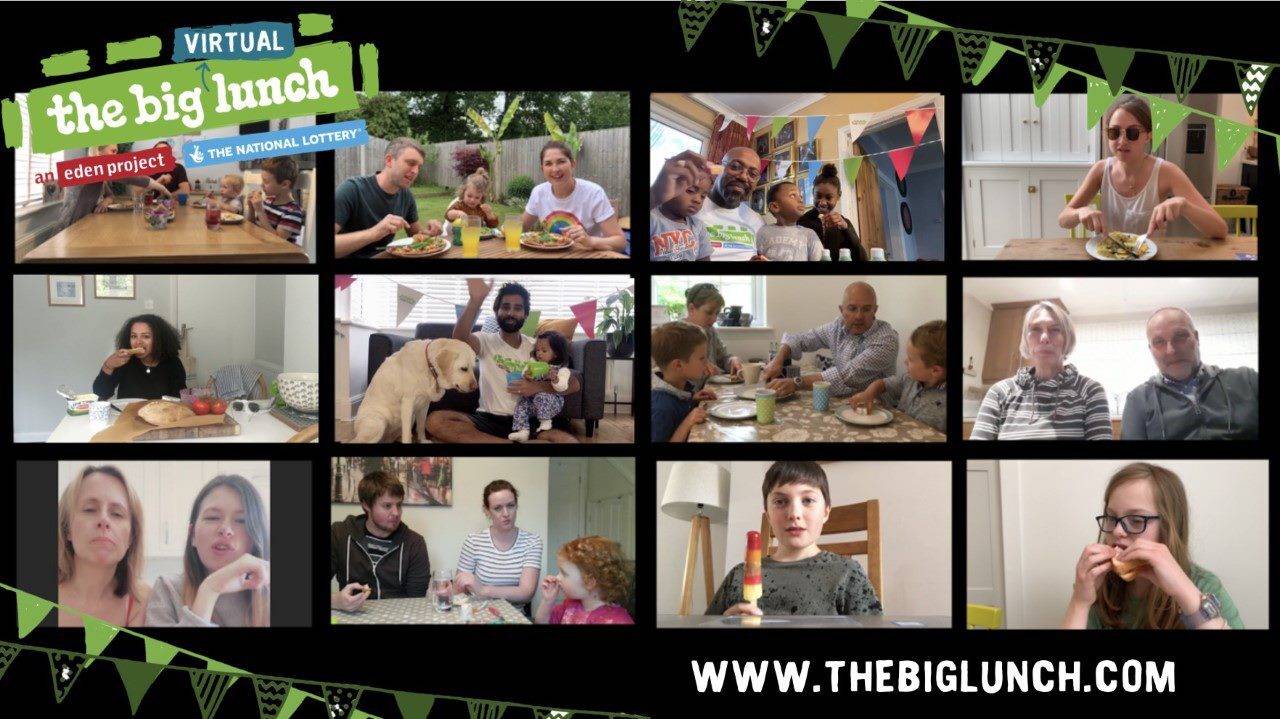 The Big Virtual Lunch
In 2020, the world as we knew it was turned upside down with the Covid-19 pandemic, and the importance of community and connection became clearer than ever before. We encouraged everyone to connect safely either in small groups in line with restrictions, or with a Big Virtual Lunch. 
From Zoom calls, quizzes and online cook-alongs, to lunch deliveries, doorstep chats and tea breaks, people came together to celebrate their communities and support those in need.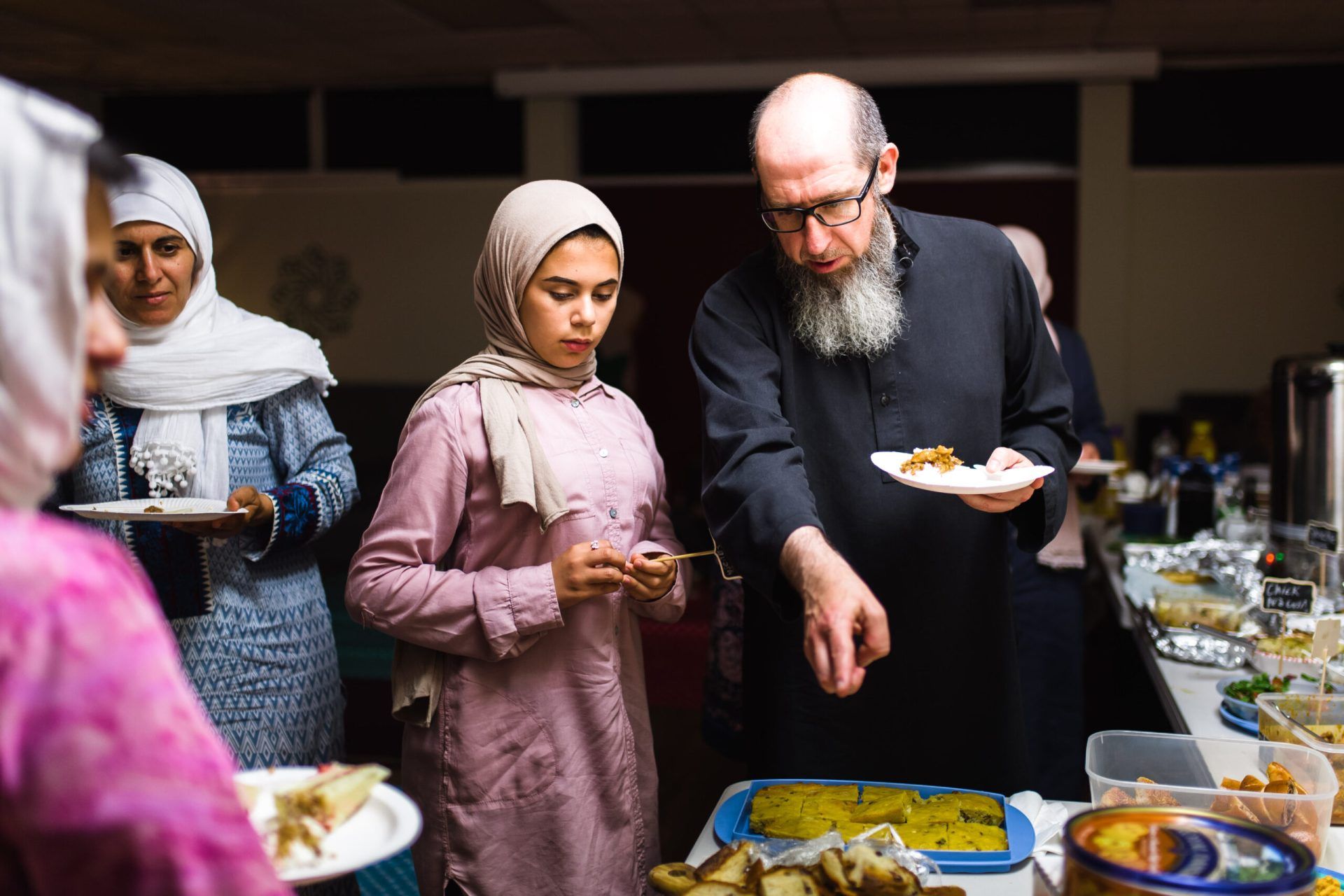 The Big

Lunar Lunch
In 2019, The Big Lunch coincided with Ramadan and Lunar Lunches were born! Hosting a Lunar Lunch at Iftar (sunset) was a wonderful way for Muslim communities to share friendship, food and fun with their neighbours and strengthen bonds during Ramadan.  
The Lunar Lunch means that anybody who might struggle to attend a day time event can still enjoy a Big Lunch. From religious beliefs to those working shifts or unsociable hours, dining under the stars is a magical celebration of togetherness. Lunar Lunches can still be enjoyed at any time – just use the invitations, posters and advice in our Big Lunch packs.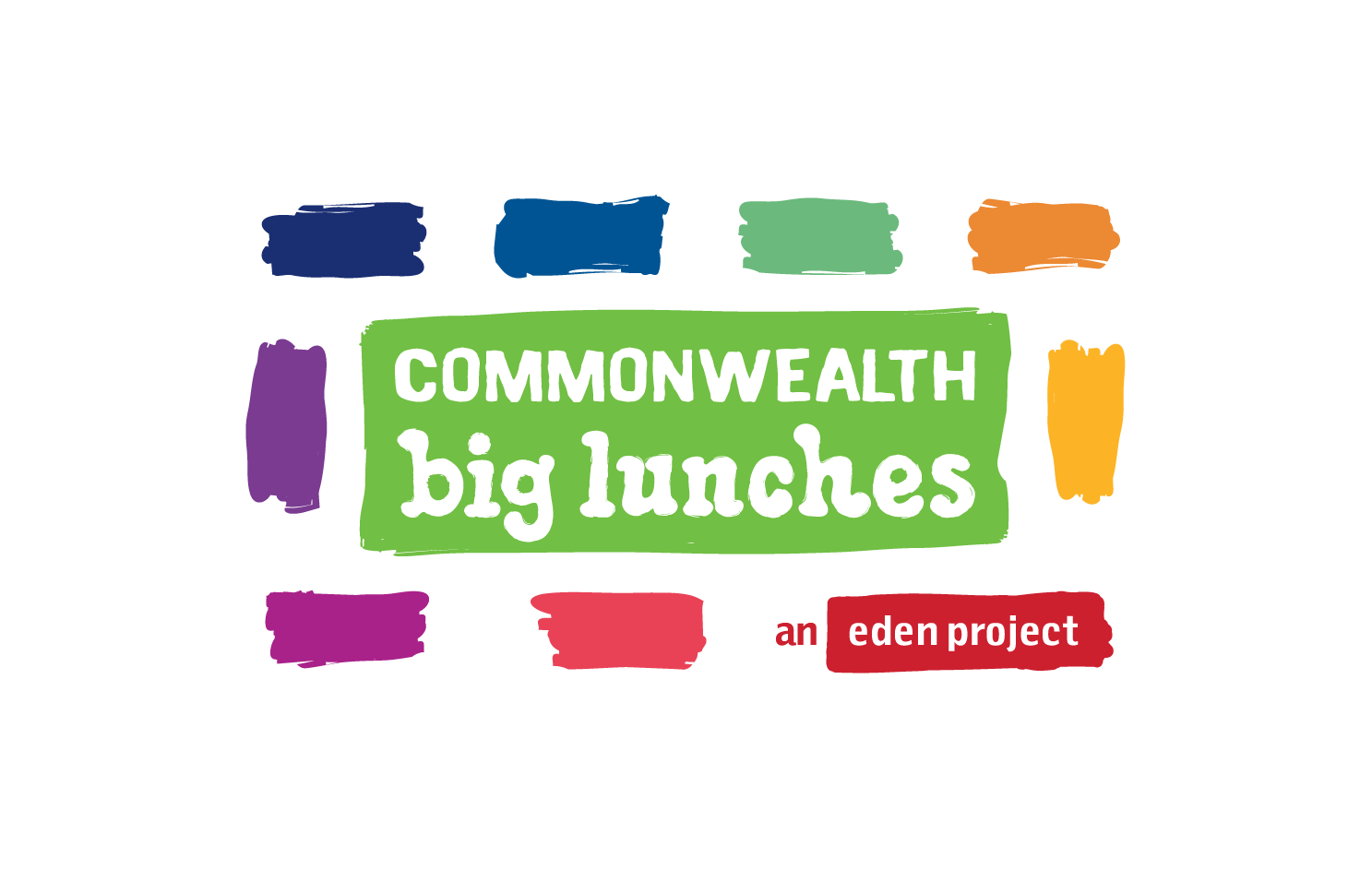 Commonwealth

Big

Lunch

es
In April 2018, the UK hosted the Commonwealth Heads of Government Meeting (CHOGM), which saw leaders from across 53 Commonwealth countries come together to address shared global challenges and discuss how together, we can create a better future for all our citizens. We brought people together to celebrate our connections by encouraging everyone to hold a Commonwealth Big Lunch in the lead up to the event. 
From the Solomon Islands to South Africa, and from Scotland to St Lucia, hundreds of Big Lunches brought people together over food to celebrate community and their Commonwealth connections.
We don't just do Big Lunches!
We're passionate about community building and connection. Here are some of the other campaigns we're a part of, or have run in the past.
Month of Community
A month-long celebration of all things community, taking place every year in June. We'd love for you to take part!
Find out more about the Month of Community
Community Action Response
The Community Action Response is led by a group of organisations from different sectors with the joint aim to encourage everyone to do what they can to support their communities, and particularly vulnerable and isolated people, during the Covid-19 crisis and beyond.
It was created because of the unprecedented challenge that Covid-19 presents for people in every neighbourhood in the UK. Together, we called for everyone to take steps that will help communities cope through the worst of this virus.
The Great Big Walk
In 2017 and 2018, we organised The Great Big Walk – a celebration of all things community. Teams from across the UK started in a central location and walked hundreds of miles home to England, Scotland, Wales and Northern Ireland respectively, just in time to take part in their local Big Lunch. They raised money and visited communities all along the way to see the incredible things people across the country are doing for their communities.
#ThereForMe
In 2019, we ran our #ThereForMe campaign, shining a light on neighbourly joy. From accepting deliveries and watering plants while you're away, to offering help and support in a crisis, we invited everyone to take this opportunity to recognise a special person or group in the busy run up to Christmas.