Run a Disco Soup event
A Disco Soup event is a fun way to bring people together while using up surplus food.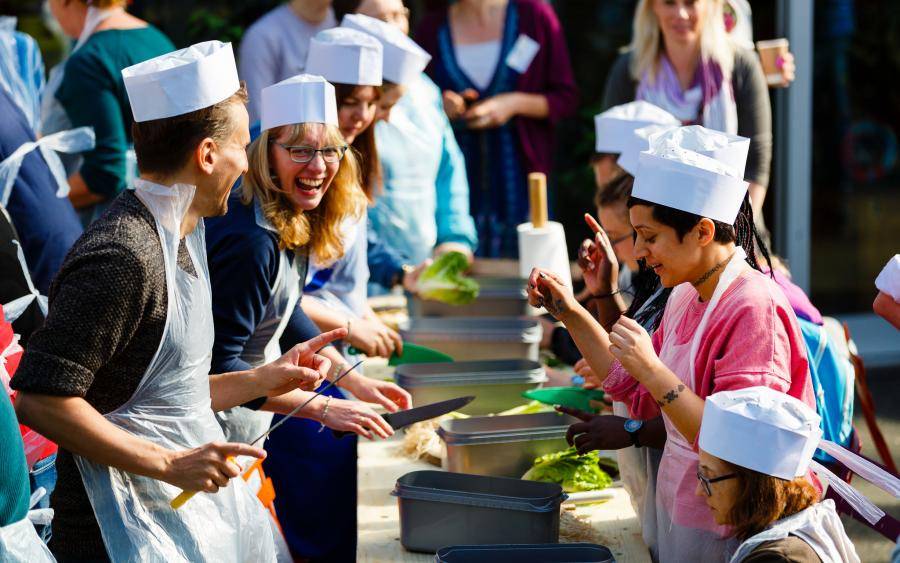 Originating in Paris, this idea is now used around the world to bring people together for a boogie and a bite. Disco Soup is a creative, collaborative and celebratory approach to addressing the global issue of food waste. It uses an upbeat message to engage all kinds of people and steps away from shaming and guilt.
What you will need
A venue that has cooking facilities and easy access to water (for washing hands and ingredients), or if you fancy an outdoor event you will need to source a power supply or something to cook on, like giant gas burners.
Cooking and serving equipment if the venue doesn't have it. You will need large pots and pans, utensils, plenty of knives, peelers and chopping boards, stuff for clearing, cleaning and washing up, items to serve the food in (mugs, bowls and spoons). Think about composting — what can you do with the peelings and any waste?
People that can help before the event and that can prepare, cook and help clear afterwards.
Food that is unloved, unsold and rejected, wonky, ugly, misshapen. Some of it may be difficult to peel but it's still delicious and perfectly edible. Anything past its 'Use By Date' is no-go, but Best Before, Display Until and Sell By dates are all more for retailers than consumers. Use your common sense (i.e. eyes and nose). It needs to be fit for consumption, but don't be put off by unnecessary labelling.
Music, but it doesn't have to be disco music, it can be any genre, live music, DJ, brass band, a local capoeira group — anything, as long as it gets people grooving!
There's quite a bit to think about, so check with your local council about insurance, risk assessments, regulations around food hygiene, music and event licenses. You could also look at our resources – we've got templates, advice and ideas to help you organise your event.


Instructions
1) Decide on a date and arrange your venue
This will help you to work out how many people you can cook for and what equipment you may need to source. You may need to think about allocating different spaces for peeling, cutting and chopping, cooking, serving, and the bits to clear up.
2) Get some help
Gather volunteers. Find out what skills you have in your community. Are there any chefs, or event organisers? You may need to think about first aid and food hygiene, and having someone trained at your event.
3) Spread the word
Market your Disco Soup event, publicise it, get word out that it's happening and that everyone is welcome.
4) Gather food that would otherwise be wasted
Ask community allotments or gardens for any surplus produce. Speak to your local farmers, green grocers and small and large supermarket chains.
5) Be inclusive
Divide up roles and plan out what will need to be done — from physically collecting the food, all the way through to doing the dishes.
6) Think about ingredients
Think of additional food that can be used to bulk out soup dishes if needed — pulses such as chickpeas, cannellini beans or lentils are great and cornflour can be used to thicken soup. Secure soup staples — onion, celery, stock, potatoes, bread, salt and pepper.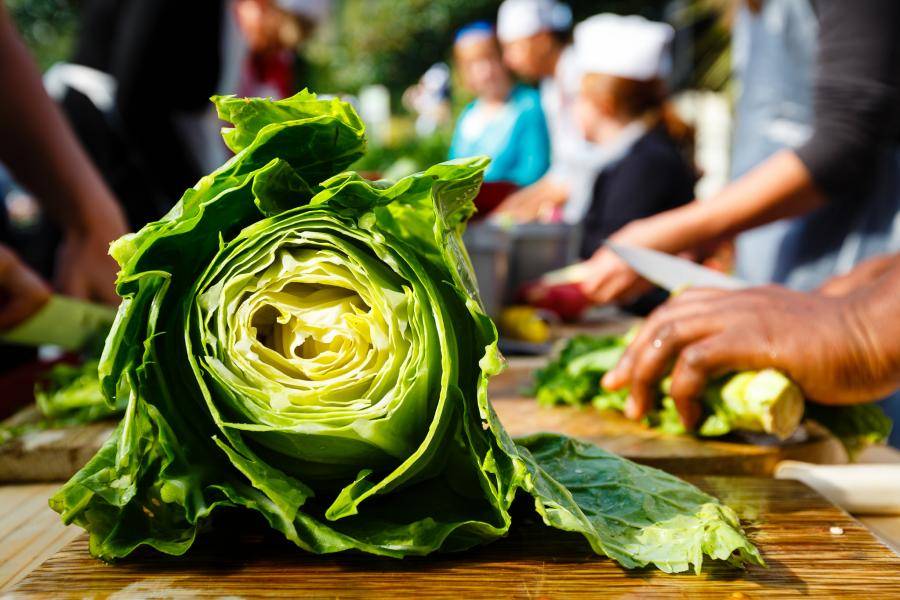 7) Get people grooving!
Plan for music to be playing all of the time! During the food prep, when it's being eaten and during clear up for sure! Local bands or budding DJs may jump at the chance, so talk to local promoters or venues. You may need a music licence for the event — for more information check out www.prsformusic.com.
8) Zero food waste
Aim for zero food waste from the event! Think about composting — what can you do with the peelings and where can it go? Is there a community growing project nearby? What will you do if there is any food left? You could tell people to bring Tupperware and they can fill up with any leftovers..
Yum!
Why not try this with a group of friends first? Invite them to join you for dinner, but ask everyone to bring along some food from their kitchen that is about to go to waste, and see what culinary delights you can all create…
Celebrate if you
enjoyed this