How to hold an eco-friendly Big Lunch
If you're concerned about the impact your Big Lunch may have on the environment, help is at hand. Here's how to hold an eco-friendly event.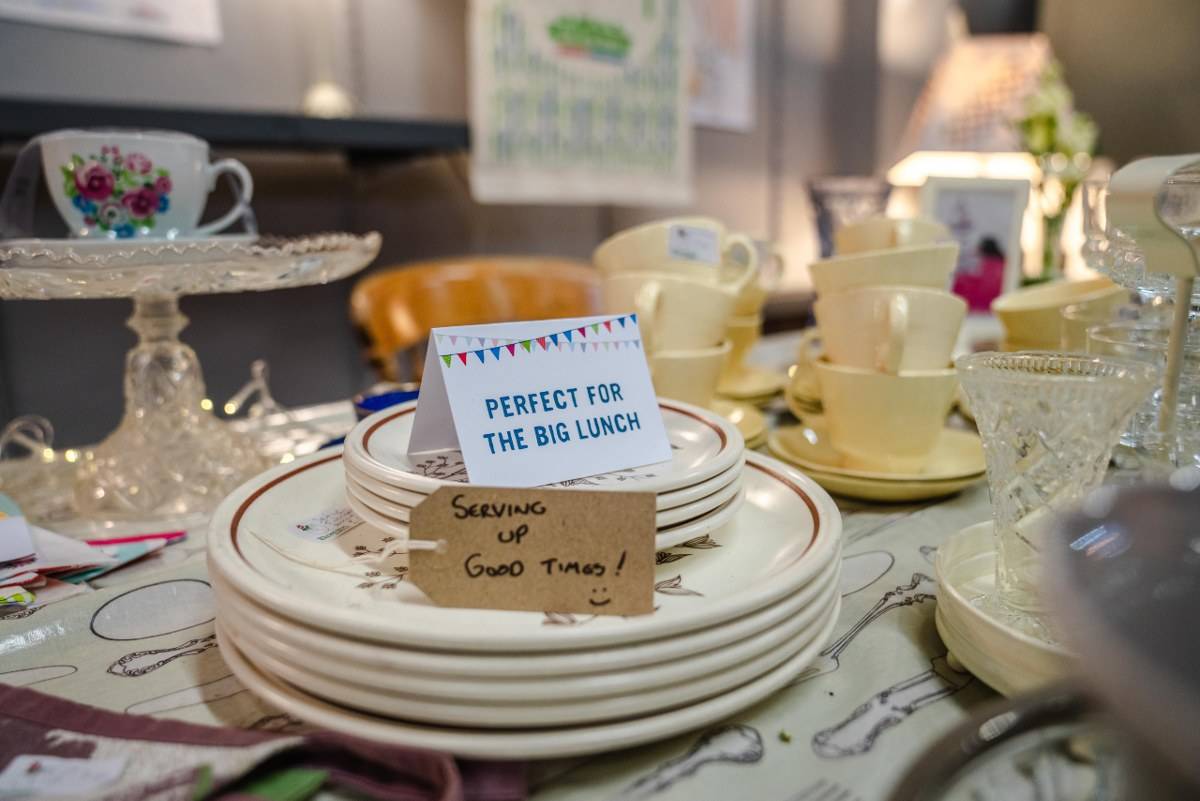 Swap and share with your neighbours on Nextdoor
Need some extra tables and chairs for your event? Maybe a cake stand or two? The neighbourhood network, Nextdoor, has a 'For Sale and Free' section that is just the place to look. You can browse items in your local area, or search for something specific, to make sure you get hold of everything you need to make your Big Lunch one to remember. There are plenty more ways to use Nextdoor ahead of your event, so if you don't have an account yet, get signed up and start making local connections.
Why not make a big list of everything you need for your party and then pop a note through your neighbours' doors asking what people are able to lend? You might be pleasantly surprised and it will help keep the cost and the environmental impact of your party down.
Mindful shopping
If you do need to get some bits for your Big Lunch, take a look in your nearest charity shop before buying brand new. Not only will this save you money, you'll also be donating to a good cause and easing your impact on the environment in the process. Charity shops are a great place to pick up things like crockery, games and picnic blankets, so try to resist the urge to click and collect, make a list of what you need and go have a rummage locally instead! You can use the Charity Retail Association website to find your local charity shop.
Charity shops generate an incredible £330m for good causes and harness the skills of more than 233,000 volunteers nationwide each year. That's an effort worth supporting! So, why not see how you can live a little more sustainably, starting with your Big Lunch?
Make some upcycled décor
Unfortunately there is no such thing as an eco-friendly balloon – even the "biodegradable" ones have the potential to endanger local wildlife. However it's still possible to have a colourful party! Netted pom-poms make a great reusable alternative to balloons. Fun and colourful, they are really durable meaning they can be used again and again.
Hosting a Big Lunch is a great opportunity to raid the contents of your bin (or your neighbour's) to see what decorations you could make for your party. You might be surprised how easy it is to make bunting from old scraps of material or even magazines or giant pom poms from old newspapers. You could even dress the tables with flowers made from toilet roll tubes and old jam jars. Paper chains are an easy-to-make eco-friendly decoration. Reuse scrap paper, magazines or old greetings cards.
The possibilities are endless, so take a look at our craft ideas and get inspired.
Avoid plastics
Now this can be tricky, especially if you are expecting lots of people to come to your Big Lunch. The thought of all that washing up could easily make you resort to cheap throw away cups and plates, but don't do it! Ask guests to bring their own plate or try hiring a reusable party kit.
There are some great alternatives to plastics out there, including cups, plate and even cutlery made from compostable plant-based materials that can be popped straight into your food waste bin or even on your compost heap.
While cling film might keep your Coronation Chicken sandwiches fresh, it's not very environmentally friendly. In Britain we use more than 1.2 billion metres of cling film every year. Cling film is made from plastic and difficult to reuse or recycle. So instead store food in:
Plastic food storage tubs
Jam jars or plastic takeaway containers
Reusable beeswax wraps
A bowl with a plate on top
Or switch to foil which can be washed to use again or recycled.
If reusing items, make sure they have been thoroughly cleaned and aren't cracked.
Waste not, want not
Ask people to RSVP and plan carefully with your neighbours so that you don't make way too much food. Make tortilla, frittata or stir fry with leftover veggies and meat. However, even with careful planning, there is likely to be some food left over on people's plates. Bring out a few bins, all labelled up, so that people can compost excess food, and recycle cardboard etc. Encourage your party goers to clean up after themselves and use the bins correctly.
Sites such as Olio are brilliant for quickly listing food for collection and if you're in London, our friends at The Felix Project are also inspiring communities to tackle food waste. They collect fresh, nutritious food and redistribute it to charities and schools so they can provide healthy meals and help the most vulnerable in our society.
Another option is to donate any unopened, non perishable items to your local foodbank, or simply take what you haven't eaten home yourself.
Grow your own
You can sow delicious veggies from February onwards and they'll be ready to harvest for a summer Big Lunch. Take a look at our planting guide (including free booklet) and whip up a delicious vegetable dish for the street when the big day comes.
Keep it simple to celebrate your communi-tea!
Joining The Big Lunch can be as simple as arranging a cup of tea with someone you want to connect with – whether that's an old friend or a new neighbour. Which is why we're proud to once again be working with PGtips.
PGtips are as passionate about making tasty cuppas, as they are about building communities and respecting the environment. Did you know that PGtips uses only 100% Rainforest Alliance Certified™ tea, produces biodegradable tea bags and has removed plastic from all its products? So, if you have a brew at your Big Lunch, you are already on your way to making it sustainable!
However you join in this year, have fun and try to keep these eco-friendly Big Lunch ideas on your radar too! Share yours on social media using #TheBigLunch – we'd love to hear your ideas too!
The Big Lunch is a great opportunity to find out what resources are available where you live and to start swapping, lending and sharing things locally.