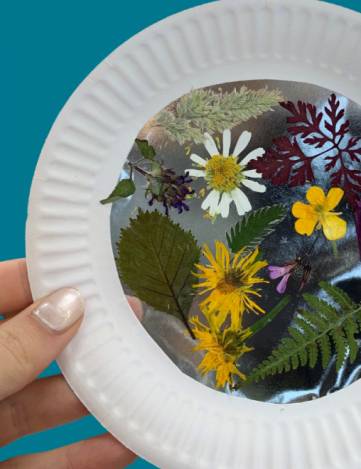 Create a nature suncatcher
Creating a nature suncatcher is a fun way to bring the outdoors inside, so you can explore and observe nature's colours, shapes and details. Each season offers new objects to discover, so get outside and start scavenging!
What you will need
Paper plate
Sticky contact paper
String
Scissors
Hole punch
Your nature finds


Instructions
Step 1
Collect a range of natural treasures, such as lightweight leaves, flowers, grass or feathers.
Step 2
Make your frame by carefully cutting our the centre of the plate. The rim of the plate will form the frame of the suncatcher (you can recycle the middle piece). Don't forget to decorate your frame too!
Step 3
Cut the contact paper into a circle slightly bigger than the hole in the frame. Peel the backing off the contact paper and press it onto the back of the frame. Make sure the sticky side is up when the plate is laid on the table.
Step 4
Arrange your nature finds and create a design on top of the contact paper. Press them down to secure.
Step 5
Once finished, punch a hole in the top of the frame and loop the string through. Hang up on the inside of a window so the light can shine through.
Step 6
Find a good spot.
Find somewhere green, sunny and sheltered — as bees love the sun — and position the hotel just off the ground so it doesn't end up in the shade too early. If you want it higher than a couple of feet, run some twine through the bottle first and tie either end and it should hook over a fence or gate post.
Celebrate if you
enjoyed this