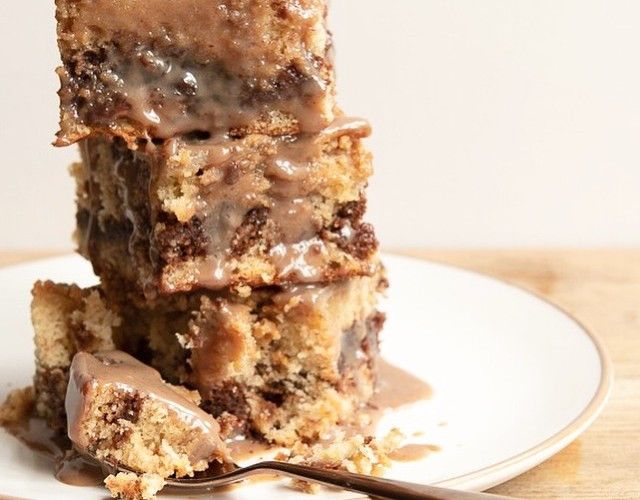 Alana Spencer's Banana Brownie Bread
Love banana bread? Love chocolate brownies? Alana Spencer has shared this gorgeous recipe that combines these two favourites, her banana bread brownie. Yum!
Ingredients
For the banana bread:
140g salted butter
140g caster sugar
2 large free range eggs
140g self raising flour
3 ripe bananas (2 mashed and one left whole)
For the brownie:
60g dark chocolate
50g salted butter
90g caster sugar
1 tbs brown sugar
1 free range egg
75g self raising flour
For the caramel:
200g condensed milk
30g salted butter
30g brown sugar
Method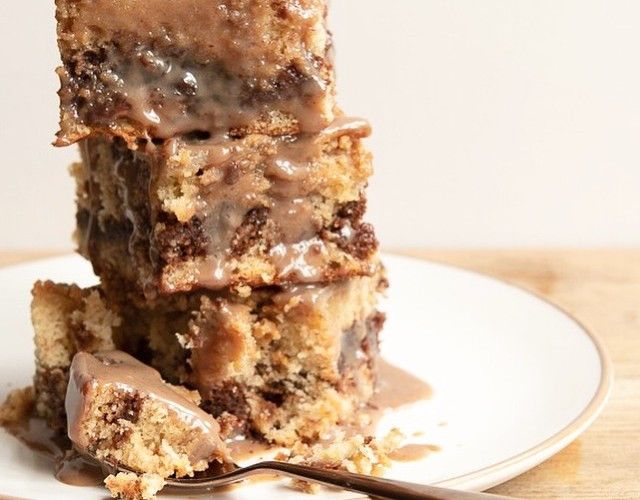 Step 1
Pre-heat your oven to 180c and line a 20cm square tin with baking paper. Begin by making the banana bread mix by beating your sugar and butter until pale and smooth.
Step 2
Add your eggs and mix until all combined. Sieve in the flour and add your mashed banana. Mix until fully combined and leave to one side. Now to make the caramel by firstly melting the butter and sugar in a saucepan on a medium heat until all dissolved.
Step 3
Add the condensed milk and turn to a low to medium heat, whisking continuously until thick and golden, set aside.
Step 4
Lastly, make the brownies by adding the butter and chocolate in a pan and heating over a low heat until all melted. Add the sugar and stir until dissolved, take off the heat and allow to cool.
Step 5
While your brownie is cooling slice your banana into 4 length ways to create thin stripes, lay these flat in your prepared tin.
Step 6
Cover these banana slices with 2/3 of your caramel, making sure the bananas stay evenly distributed. Keep the left over caramel to drizzle on top to serve.
Step 7
Now the brownie mix has cooled a little, add the egg and stir to combine. Finally add the flour and mix one last time.
Step 8
Now you are ready to layer the brownie and banana cake mix on top of your caramel! I decided to add 1/2 the banana cake mixture, all of the brownie mix and then the rest of the banana cake so you get delicious layers.
Step 9
Bake at 180c for 30-35 min, test with a fork, when this comes out clean it is ready. Take out of the oven and leave to cool.
Step 10
Tip out of the tin so that the sliced bananas are now at the top, cover with the rest of your caramel and treat yourself to a slice or 3!
More recipes like this delicious banana bread from Alana, here.