Carrot cake tray bake
This delicious carrot cake tray bake recipe will be hard to share!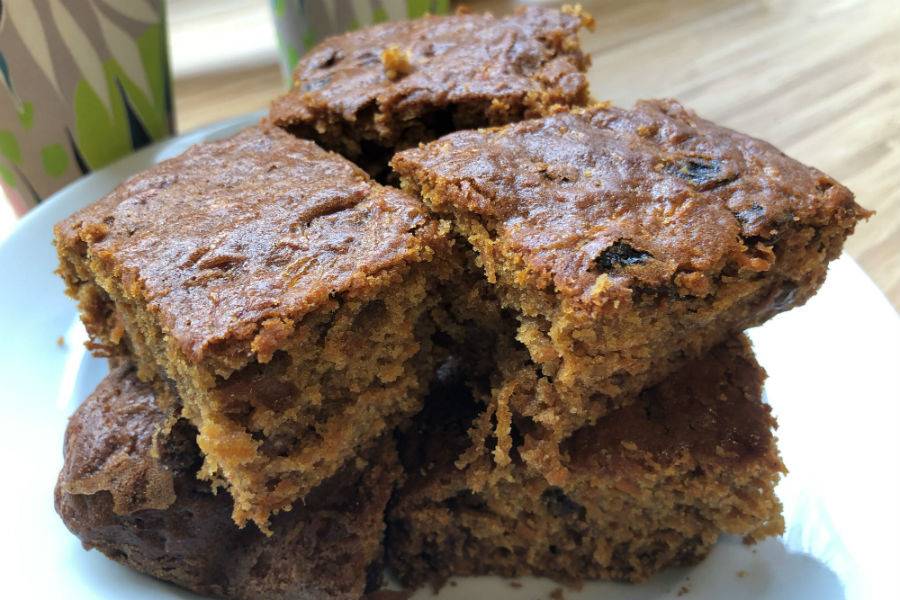 Turn this traditional favourite into a simple tray bake that'll feed your street! Just as delicious, (if not more) but much easier…
Plus, this carrot cake tray bake recipe is easy-to-share, so you can pop by your neighbours and have a little afternoon treat over a cuppa. We decided not to add the frosting but the option is there if you'd like to indulge a little more.
Ingredients
For the cake
1 medium orange
140g raisins
125ml vegetable oil
115g plain wholemeal flour or plain white flour
1 tsp baking powder, plus an extra pinch
1 tsp bicarbonate of soda
1 rounded tsp ground cinnamon
140g dark muscovado sugar
280g finely grated carrot (about 375-400g carrots before peeling)
2 eggs
115g self-raising flour
For the frosting (optional)
100g light soft cheese, straight from the fridge
100g butter
3 tbsp sifted icing sugar
½ tsp finely grated orange zest
1 ½ tsp lemon juice
Method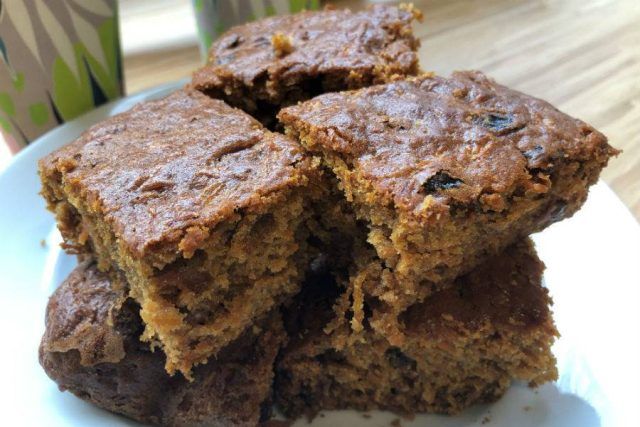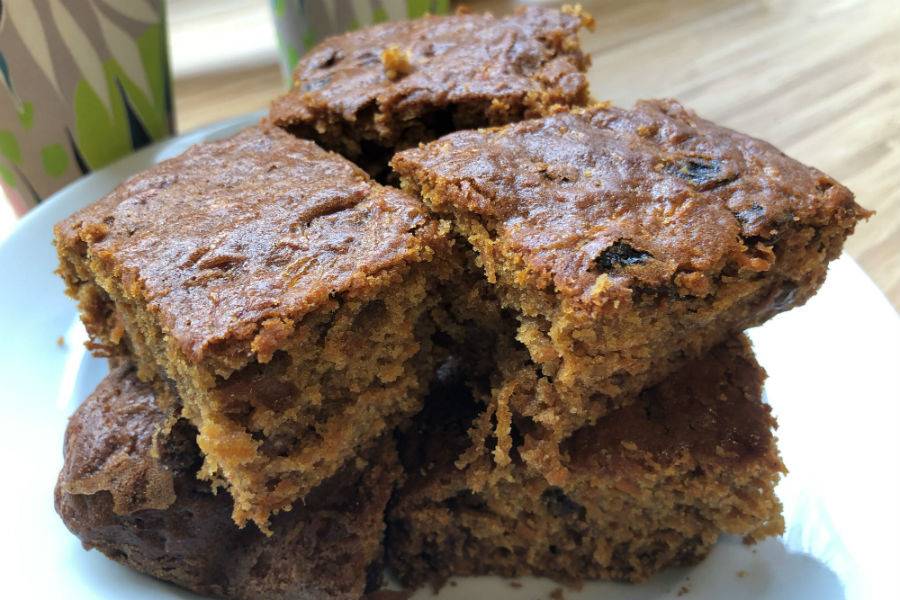 Step 1
Heat the oven to 160C/fan 140C/gas 3. Lightly oil a deep 20cm square cake tin and line with baking paper. For the cake, finely grate the zest from the orange and squeeze 3 tbsp of juice. Pour the juice over the raisins in a bowl, stir in the zest, then leave to soak.
Step 2
Mix the flours with 1 tsp baking powder, bicarbonate of soda and cinnamon.
Step 3
Separate one of the eggs. Put the egg white in a small bowl and the yolk in a large bowl. Break the other whole egg in with the yolk, then add the sugar. Give this a good whisk together for 1-2 minutes until a thick and foamy mixture forms.
Step 4
Slowly pour in the oil and continue to whisk on a low speed until it's well mixed. Tip in the flour mix, half at a time, and gently stir it into the egg mixture with a rubber spatula or big spoon. The mix will be quite stiff but don't worry. Put the extra pinch of baking powder in with the egg white and whisk to soft peaks.
Step 5
Fold the carrot, raisins (and any liquid) into the flour mixture. Gently fold in the whisked egg white, then pour into the tin. Give it a good jiggle to level the mixture, use a spatula to smooth if necessary. Bake for 1 hour until risen and firm or until a skewer or knife inserted in the centre comes out clean. Leave to cool in the tin 5 minutes, turn out onto a wire rack, peel off the paper, then leave until cool.
Step 6
Stir the soft cheese, butter, icing sugar and orange zest together – be sure not to overbeat – and then stir in the lemon juice. Swirl the frosting over the cake and cut into 16 squares. Decorate how you like to put your own twist on this classic.