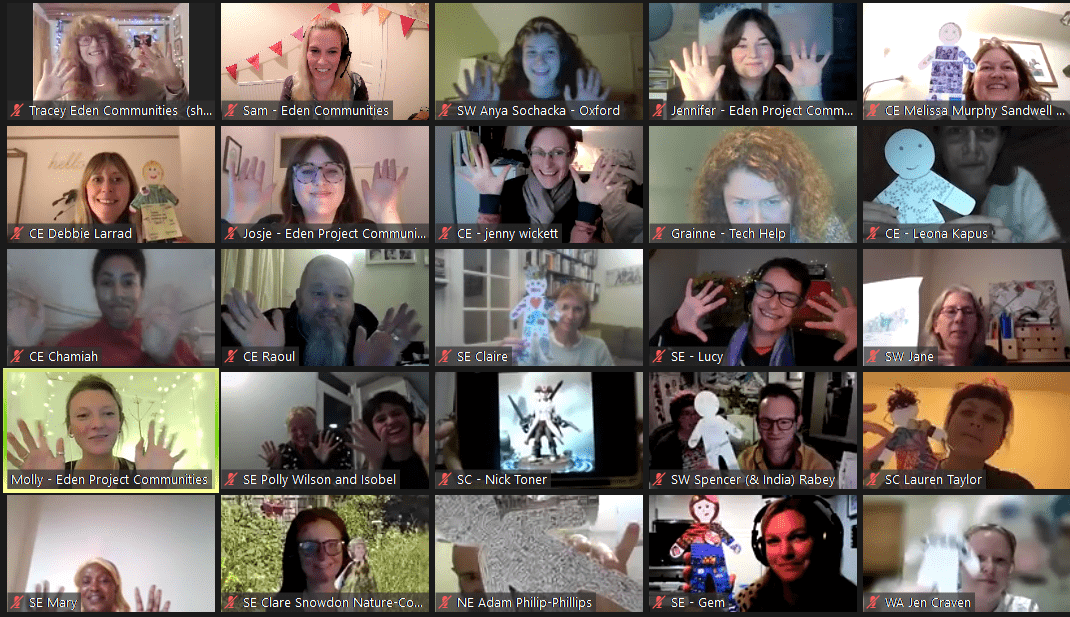 Introduction to Community Action
Course information
Jam-packed with workshops, inspirational talks, networking and fun, the Introduction to Community Action course is for anyone interested in making a difference in their community. Places are fully funded, but in high demand so get your application in now!
Jump to:
Scroll down to next section
Schedule
Read more about the content covered in each session.
Connecting: Sharing 
Stories
Monday 6th November
6:30pm-8:30pm
For our first session we'll be exploring our own stories and listen to others tell theirs, as we think about our communities and the positive change we'd like to make, see and do. No matter where you are on your journey, everyone has a story and sharing yours is a great way to grow connections, engage others and get excited about what's next!
Free introductory session
Learn about our upcoming course with our 45 minute introductory session taking place on Tuesday 26 September from 7pm – 7:45pm. You'll learn more about what you can expect from our free Community Action course, including the application process, the weekly sessions and the support we offer afterwards.
If you'd like to find out more about it before applying, or are curious, come along and we'll take you through it.  We're a friendly bunch – you can ask any questions you might have, or simply watch and listen.
of participants say the course has motivated them to do something for their community
new projects started as a result (since 2013)
secured funding for their project within 6 months of the course
I felt for the first time in my life that I was surrounded by people who shared that 'fire in your belly' feeling when you are passionate about something that you want to do to improve the lives of others. It was a hive of positivity, of people who were willing to be open and share knowledge with complete strangers just because they wanted to help!

Kathryn
Get ready for the sessions
Read the information below before your first session.
Joining the sessions on Zoom
If you're successful, you'll receive a link to register for the sessions, taking place on Zoom, in your welcome email.
You use the same link to join all 5 sessions – so keep it handy or add it straight into your online calendar!
If you're struggling to join a session, contact communitycamp@edenproject.com and we'll help you out.
What you need for the sessions
For most sessions, you'll need a pen and paper and resources from your Welcome Pack (which you'll receive in the post before the first session).
We'll let you know in each session if there's something to bring for the following one.
After the course finishes, you'll have access to all resources, useful guides and further information.
Connections and safeguarding
During the course you'll meet new people and we want people to make connections safely and comfortably.
We recognise that that is different for different people. So please only share personal details or personal experiences that you are happy to share, and respect people's confidentiality in conversations, private messages and breakout rooms.
There will always be a designated member of the team on each session who will be there to help anyone if they feel uncomfortable at any time.
Recording and photography
We may record each session, for sharing with you after the course for you to look back on'. Links to the sessions will only be shared with other participants.
Please note: your name (and number if you dial in) will appear on the screen and in the recording.  You can change this when you join the session (or in your Zoom account beforehand, if you have one) – we can help you if you're not sure how to do this.
We may also take photographs, but we will let you know before we do. If you would prefer not to appear, please turn your video off while we take them. We may use these images for marketing purposes, including on social media. 
Meet the team
Find out more about the lovely people who are leading the course.
Simple starters
If you're keen to get going, read these articles before the course starts to help you make the most of your experience.
Funded by The National Lottery
Thanks to the generous support of our core programme funder, The National Lottery, we're able to run this fantastic 'Introduction to Community Action' course to empower and inspire budding community organisers around the country.
Through our ongoing partnership with The National Lottery Community Fund, the hard work of our team at Eden and the money raised by National Lottery players, we're on a mission to help the UK connect with their communities.
We're excited to meet you