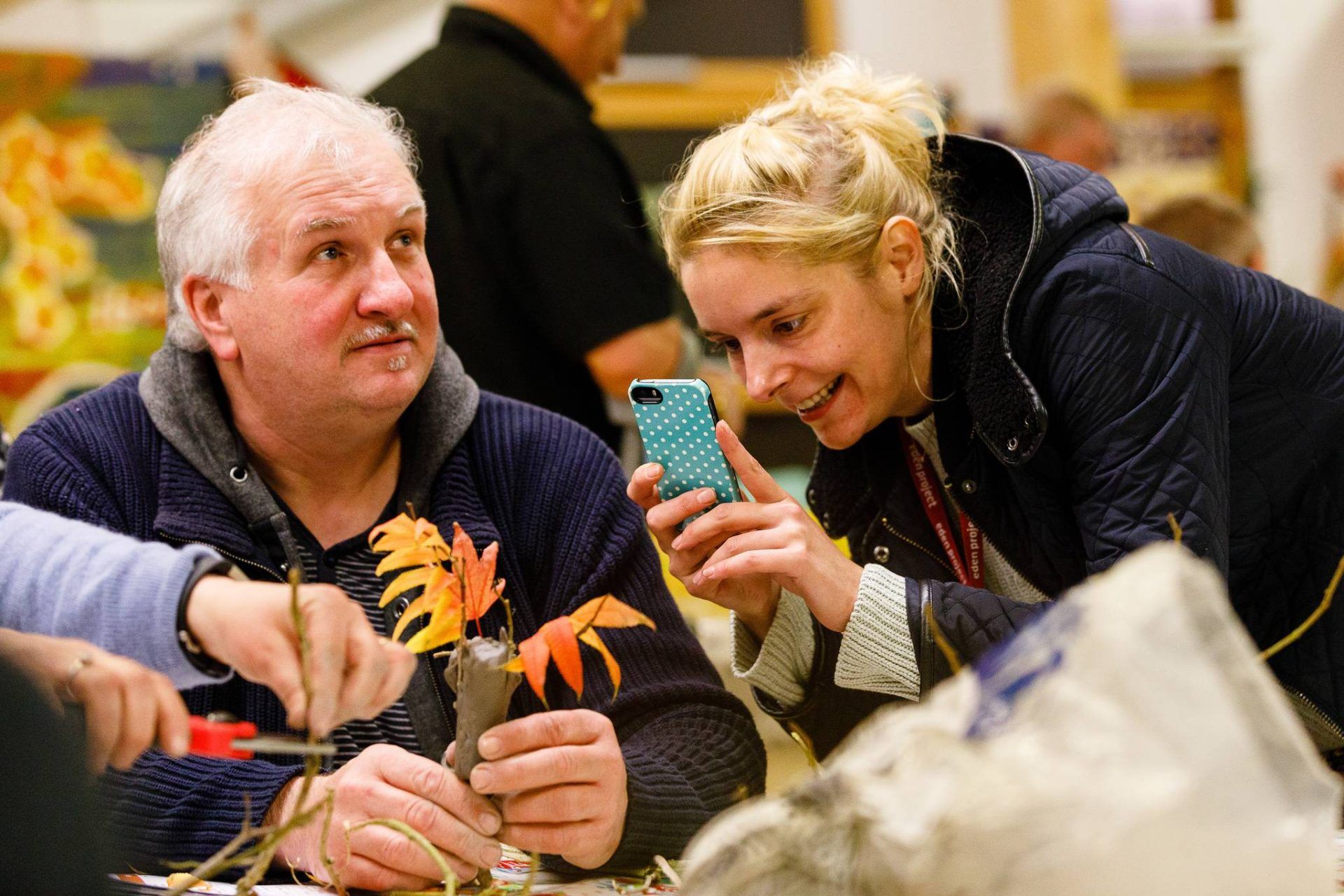 Christmas is all about community
Diana, who is originally from Germany where the main Christmas celebrations happen on Christmas Eve, often feels at a bit of a loose end on Christmas day.
When Eden Community Camper Mo asked Diana to help at an event cooking Christmas dinner for their local community, she found her own Christmas day tradition and helped reduce loneliness at Christmas for others too.
Diana's story
It's starting to feel like Christmas! Whatever it may be that gives you that festive feeling – the Christmas lights being switched on at your local high street, the first mince pies appearing in the office or that friend who always seems to put up the tree in the middle of November– for many of us, the festive period is a time to look forward to.
However, for some of us, it may not be such a joyous time as we seem to find ourselves at a loose end on Christmas Day. Maybe loved ones we spent all our Christmases with have passed away or family members live too far away to visit. Maybe we just moved to a new place where we don't know anyone yet or we simply don't celebrate Christmas.
Getting stuck in at a community Christmas event
That's where Community Christmas celebrations come in. When I met Mo at one of our Eden Community Camps in 2017 and she told me about the Christmas party she was hosting for her local community in Nottingham, I didn't think twice about getting involved. Mo, a former mental health nurse, has held big Christmas Dinners for her local community since 2016 and with over a hundred people expected, there was lots to do, tons of food to cook and a huge space to decorate.
I must admit I was a little nervous about it all in the beginning (so I put on my best Christmas outfit)  but everyone was so friendly and within minutes I found myself in the kitchen peeling vegetables and happily chatting to people. People at the event came for many different reasons but everyone felt really welcome and it was a great way to make new friends.
Everyone was so friendly and within minutes I found myself in the kitchen peeling vegetables and happily chatting to people.
I will go back and help out at Mo's next Community Christmas party and for me, now it begins to feel like Christmas when I get the message, 'volunteers wanted for Christmas Dinner'. Attending a Community Christmas doesn't really feel like volunteering, it feels more like spending time with people in your community and making new friends.
Diana's tips for supporting your community this Christmas
Can you think of someone who may find themselves on their own during the Christmas period? It's not only elderly people living alone who may dread Christmas but also the colleague who recently relocated, the friend who separated from their partner or the single parent whose kids will spend this Christmas with the other parent. How can you bring people together?
If you want to volunteer at Christmas, many churches and local organisations host or know about local community Christmas dinners. Join in and you might find your own Christmas tradition!
The Big Issue offer a great guide to help you find Christmas volunteering opportunities through organisations such as the Salvation Army, Age UK and local Rotary clubs
Celebrate if you
enjoyed this