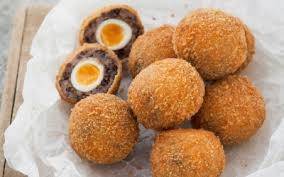 Rosemary's Black Pudding, Lamb and Mint Scotch Eggs
These delicious mini scotch eggs are sure to delight as part of a picnic or on a Big Lunch table, but you'll have to get in quick as they'll disappear before you can say black pudding!
8 quail eggs
180g of lamb mince
90g of black pudding, diced
10 fresh mint leaves, finely chopped
1tsp fine sea salt
150g plain flour
2 large eggs, beaten
200g panko breadcrumbs
Vegetable oil, for deep-frying
Method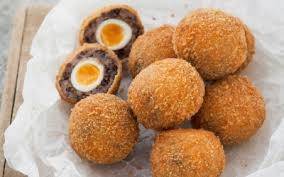 Step 1
Bring a small pan of water to the boil. Lower quail's eggs into the water and cook them for 2 ½ minutes. Remove and immediately plunge the eggs into iced water to halt the cooking process. Peel them carefully and set aside.
Step 2
Put the mince, black pudding & mint in a bowl and mix together. Season with salt, divide the mixture into 8 equal portions, then flatten out slightly. Wrap each portion around a peeled quail's egg, using your hands to form an even coating.
Step 3
Place the flour, beaten eggs & breadcrumbs into separate bowls. Roll each covered egg in the flour, tapping off any excess. Place in the beaten egg, then straight into the breadcrumbs, making sure there's an even coating. Repeat – to double coat each egg.
Step 4
Half fill a large pan or a deep-fat fryer with vegetable oil and heat the oil to 170C. Preheat the oven to 170C/Fan 150/ Gas mark 3.
Step 5
Add half the scotch eggs to the hot oil & deep-fry for 5-6 minutes until golden brown & crisp. Remove with a slotted spoon, draining off any excess oil & place on a baking sheet. Fry remaining eggs in the same way, then bake in the oven for 4 mins.
Step 6
Serve on their own as a hearty snack, or as part of a picnic, and enjoy!