Perfect Yolk Scotch Eggs
Great cold as a snack or on the go!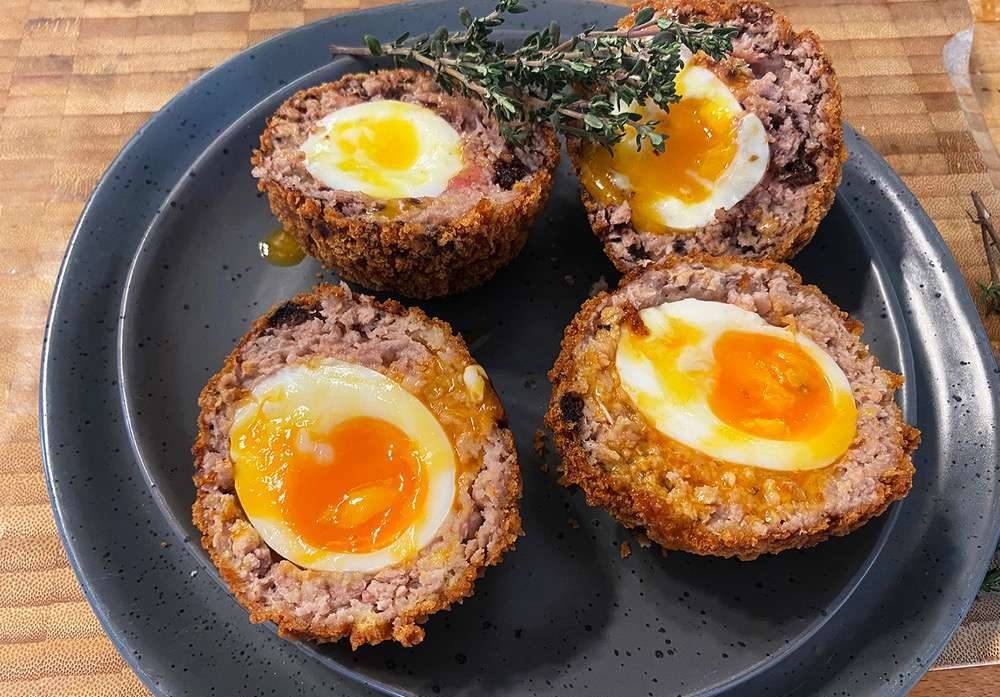 4 thick pork sausages
200g lean pork mince
50g black pudding, crumbled (optional)
4 large free range eggs, in shells
1 large egg, beaten well
1/2 tsp fresh thyme leaves
1/2 tsp dried sage
pinch black pepper
125g plain flour
150g panko breadcrumbs
seasoning
vegetable oil for frying
Method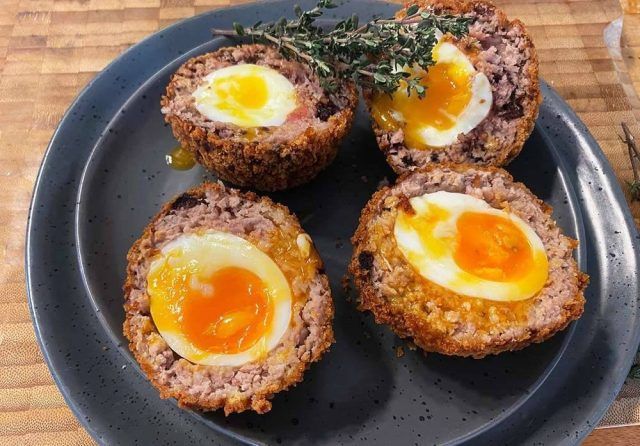 Step 1
Place the four eggs, still in their shells, into a pan of cold salted water and bring to the boil. Boil for 4 minutes (if you want soft yolk) or 6 minutes for a firmer yolk.
Step 2
Drain and plunge the eggs into a bowl of ice cold water for at least 20 minutes (if you crack the shells slightly when placing them in the water, they are easier to peel off later).
Step 3
Gently peel the eggs under cold running water then dry with kitchen paper.
Step 4
Remove the filling from the sausages and add the mince and black pudding (if using) and mix well. Add the thyme, sage and freshly ground black pepper. Divide the sausage meat mixture into four and shape each ball around an egg.
Step 5
Place the flour onto a plate, add some seasoning and mix well. Roll each coated egg in the flour, then in the beaten egg, and finally roll in the breadcrumbs until it is completely covered.
Step 6
Heat the oil in a deep, heavy-bottomed pan to 170C (or until a breadcrumb sizzles and turns brown when dropped into it). Carefully place each scotch egg into the hot oil and deep-fry for approx 6-8 minutes, until golden crisp and the meat is cooked.
Step 7
Carefully remove the scotch eggs from the oil with a slotted spoon and drain them on kitchen paper. Serve immediately with a side salad to reveal the soft golden yolk, or they are great cold as a snack on the go!
Recipe kindly shared by Meat Promotion Wales.