Light up your street with a silhouette masterpiece
Throughout the winter months, it's important we keep our communities shining bright. Try creating a window silhouette display in your home and asking others to do the same, it's a fun and easy way to bring a bit of community joy and everyone can join in!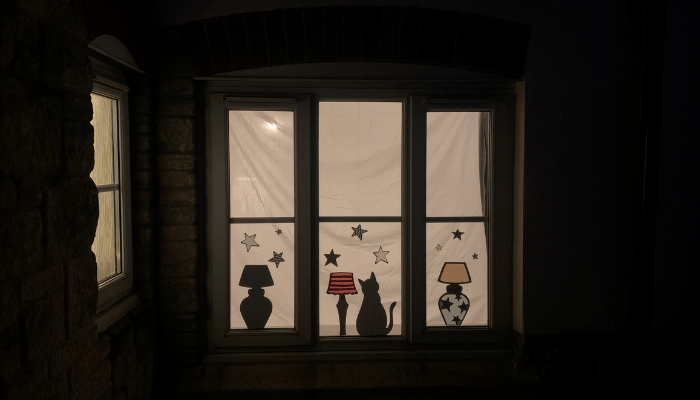 Instructions
Hang lights, put up a picture, go wild with a chalk pen… unleash your inner artist and brighten up the day of passers-by. Invite your neighbours to take part too and you've created an outside winter gallery where everyone can do some window wondering.
One of our favourite ways to transform your house is a simple window silhouette like this. There's some great ideas and inspiration on Window Wanderland, and some steps below to help you create your own magical display…
We've prepared some templates for sample window silhouettes.
What you will need
Black card
Tracing paper (if copying a design)
Coloured tissue paper (optional)
Pencil
Scissors or scalpel
Glue
Tape or blu tack
1) Design your silhouette
Choose what you want to create a silhouette of and where it will go. You might decide to go large and measure your whole space or to do something smaller to start with. .
Make sure you pick a spot people passing by will be able to see – it doesn't even have to be a window!
2) Draw your shape onto black card
Draw your shape onto the black card. You could either do a block silhouette, or something more intricate with sections cut out inside (like a house with windows).
If you're stuck for ideas or want to create something quickly, download and print our template, and cut out or trace out the design onto black card.
3) Cut your shape out
Using scissors or a scalpel, carefully cut out your shape and any details.
Depending on your design, cut and glue the coloured tissue paper onto the back of your card so it fills in any gaps like a stained-glass window.
4) Stick your design to the window
Secure your design to the window with tape or blu tack (make sure it's facing outwards). As the evening draws in, switch your lights on, step outside, and see your creation shining bright.
We'd love to see your wonderful windows…
… make sure you share your photos with us on social media!
Celebrate if you
enjoyed this