​10 community ideas for Christmas
If you want to spread some cheer and lift the spirits of those around you, here are our favourite ten community ideas for Christmas to try this year!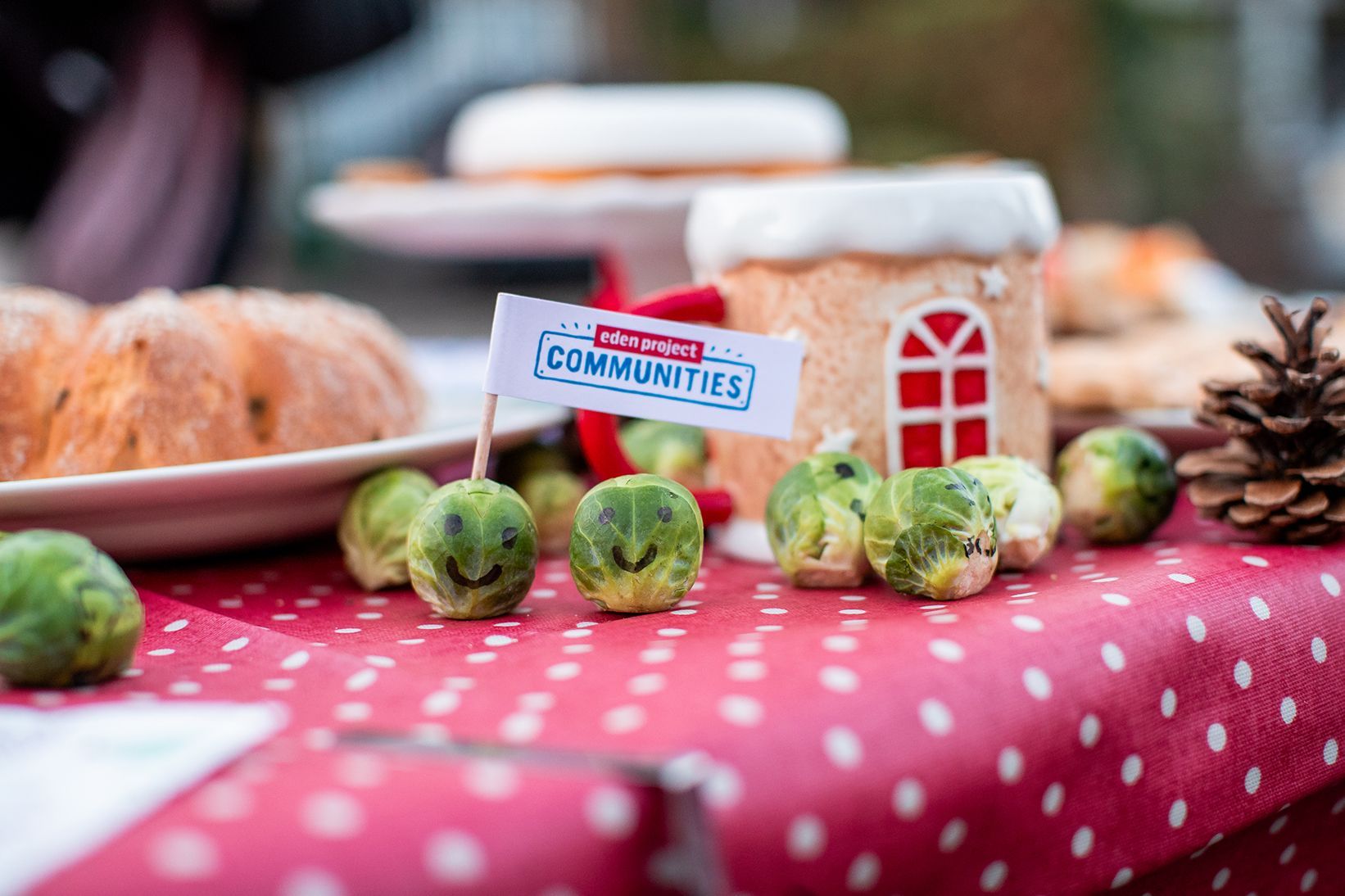 1) Say hello to your

neighbours

with a Mince Hi

 
Times are tough at the moment, but a little kindness can go a very long way. Say hello to people out and about, smile and ask your neighbours how they are or if they need anything. You could even pop over with a mince pie and take 10 minutes to have a chat. It's amazing how much difference a kind word or thoughtful gesture can make for people who are isolated or lonely. 
 
Inviting your neighbours over for a festive toast is great to pencil in during the time between Christmas and New Year. It can be lonely for some as visitors have left and it's also usually a little less hectic than the lead up to Christmas. 
 
See more Mince Hi ideas 

2) Make willow lanterns
These lanterns are really impressive and effective but aren't as tricky to make as you might think – read the instructions and just give it a go! Once you've mastered a pyramid, get creative and try different shapes and sizes, lanterns with curves, and lanterns with finer details.
Pop them outside on a dry evening to add some sparkle and magic to your neighbourhood, or get together with your neighbours to celebrate with a lantern parade – a lovely community idea for Christmas.
3) Christmas card and a chat
A Christmas card is a lovely way to remind someone that you're thinking of them. Checking in with your friends and loved ones can be enormously helpful for those struggling over the festive season.
If there's someone you haven't caught up with in a while, why not write them a longer card or message? Think quality over quantity – handwrite longer cards for those who may truly appreciate that personal touch. It's the little gestures that mean the most, and making the time to connect with others is good for the soul.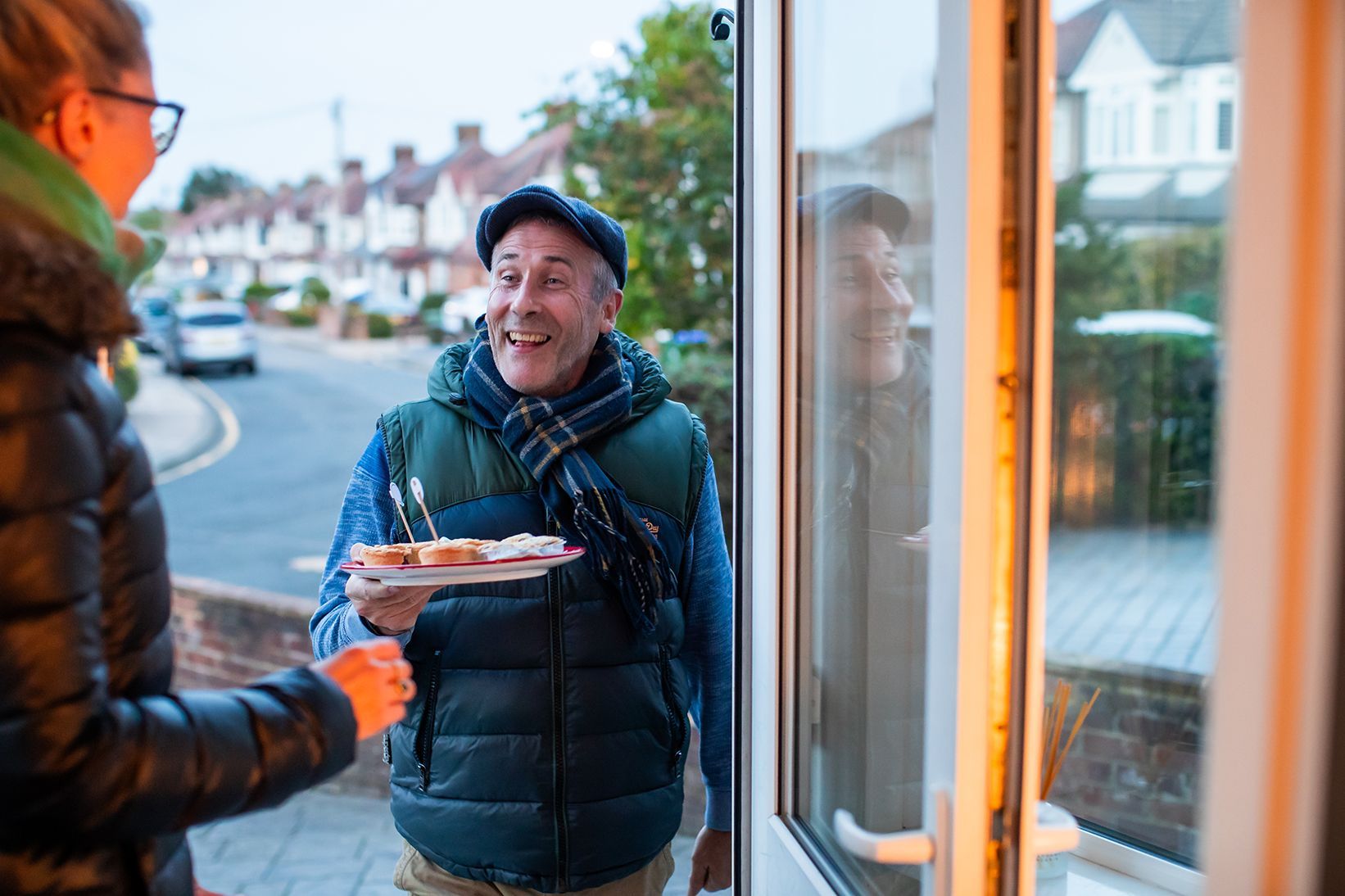 4) Share food, friendship and festive fun with a Big Lunch at Christmas
Gather your neighbours, friends, colleagues or volunteers for a Big Lunch at Christmas this year. Celebrate in style with all the trimmings or have everyone bring a dish for your meal. You can always keep it simple with just some festive drinks and some mince pies or perhaps a Bake Off-style baking competition.
Whatever you do, the idea is to take time to sit down, eat together and have a chat. We've got all the resources you need to host a Big Lunch at Christmas, from invites to cracker templates and food flags.
Organise a Big Lunch at Christmas 
5) Host some Christmas crafts
Sometimes having something to do is the best way to bring people together and start a conversation. Host a festive crafts afternoon and get people making paper chains, lanterns, natural Christmas decorations and more.
You can use existing and recycled materials so it doesn't need to break the bank! You could make them for each other, add them to your tree or give them as gifts to loved ones.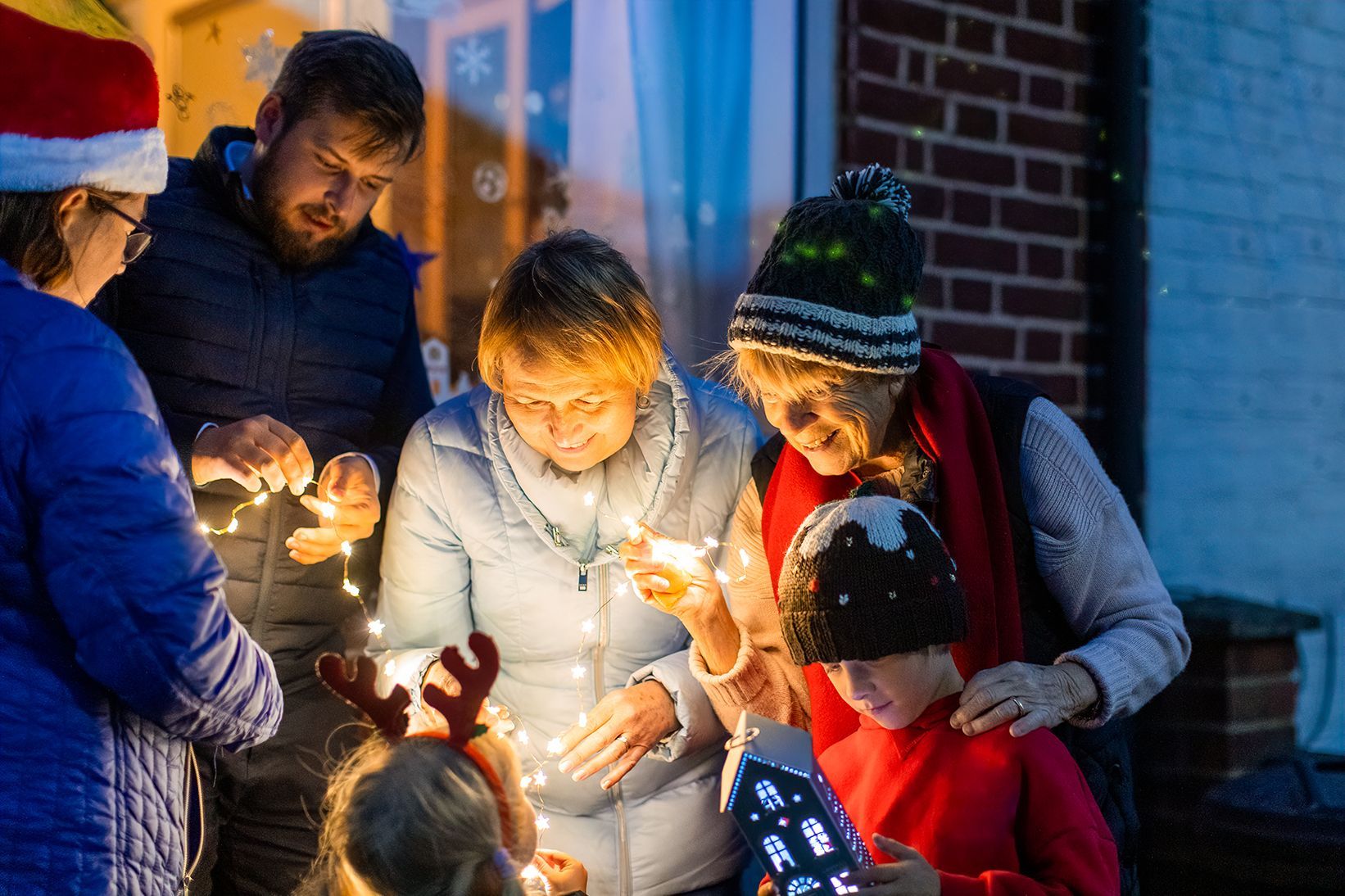 6) Get planting to brighten your community
Beat those winter blues by bringing your community together outside and plant up some seeds, bulbs or trees in your neighbourhood or community space. Spending time together outside has lots of benefits for mental and physical health – and your community will look brighter for it!
You don't need to have much space or all the gear – try planting bulbs in old wellies and arranging them down an alleyway. You can cut plastic bottles into makeshift scoops or trowels and use recycled containers as planters!
Wherever possible, using peat-free compost (or even making your own!) is a small measure we can all take to protect our environment this spring. Peatlands are precious spaces for wildlife and they're a huge store of carbon – protecting them is vital in the fight against climate change
What to plant to brighten your community 
7) Create magical advent windows
Spread some joy from your windows by creating magical silhouettes using tissue paper, sparkles and anything else you have around the house. It's surprising what a few window decorations can do for morale. Think lights, silhouettes, snow, paper baubles!
You can even team up with others in your neighbourhood to create a Living Advent Calendar and enjoy discovering all the displays together. Get the whole street on board and you could collect donations for a local charity or food bank. If you feel comfortable, why not add a little sign to invite your neighbours to knock for a doorstep mince pie and a chat? Homemade or bought, they will go down a treat.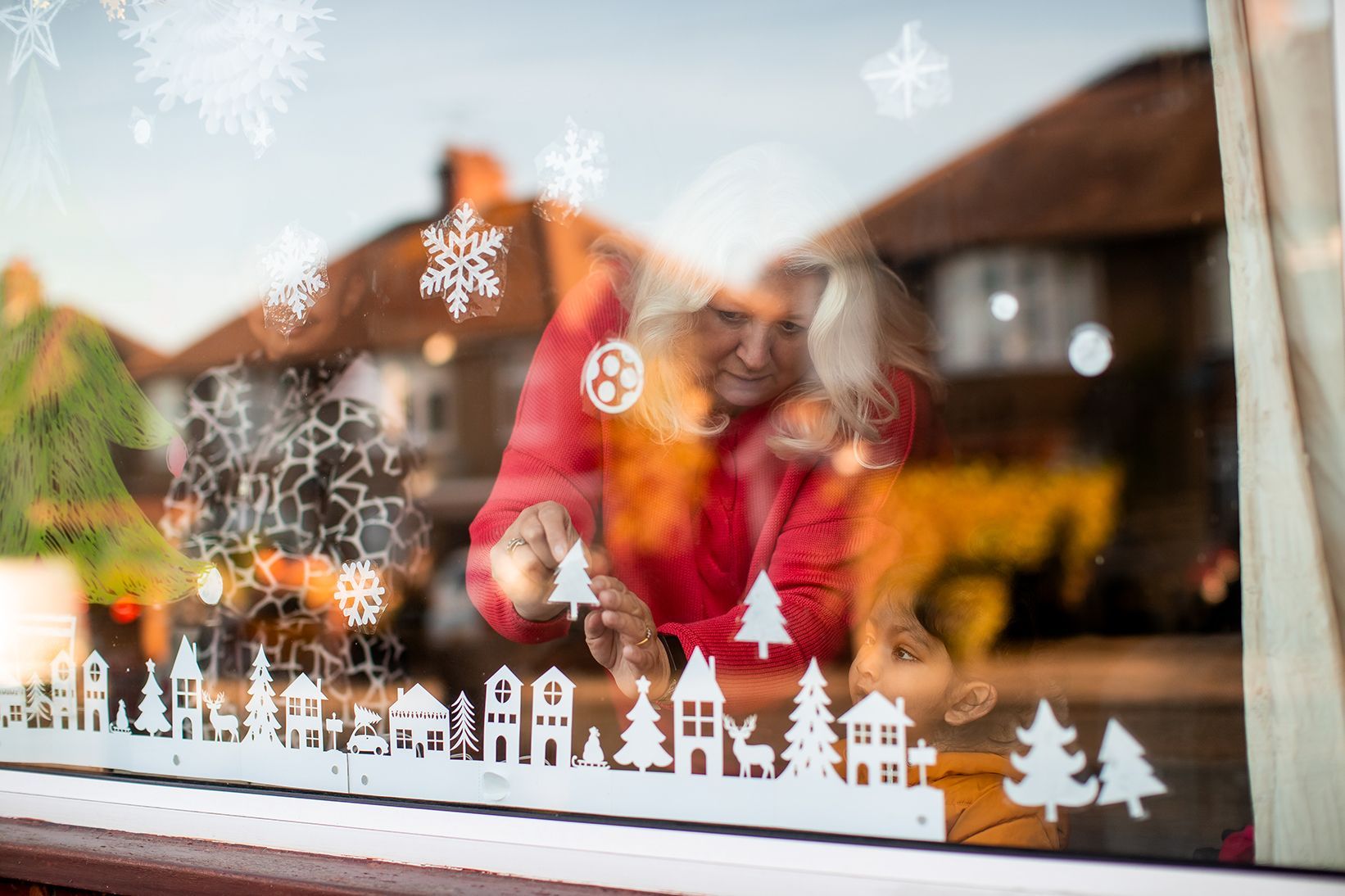 8) Go carol singing
Bring the holiday spirit to your street and go carolling with a small group. Revive this tradition of the past and show off those hidden talents of yours. Having a sing song and a little boogie is a good way to get those endorphins going! Why not belt out a few Christmas classics with your neighbours to boost community spirit?
9) Enjoy some festive baking
Spread joy this winter with cake by doing some festive baking and sharing it with your community. You could recruit a friend or a loved one to help you and make it a shared task and a nice way to catch up with someone.
We've got a range of Christmassy recipes for you to try, from delicious jammy dodger blondies to chocolate orange popcorn bites.
10) Alternative advent calendars
Advent calendars seem to be increasingly grand and expensive, so why not turn the whole thing around and try an alternative advent calendar instead? Donate an item per day to your local food bank, or do some good deeds.
We've put together our favourite small acts of kindness you can do to spread warmth this winter, with some ideas for how to make it fun for the whole family.
People feel under increasing strain over Christmas – they may not be able to see loved ones, or might not feel they have people who care around them.  There is lots we can do, simply having a chat and raising a smile with people who live nearby will increase the sense of community spirit, rekindling neighbourliness and could even help to alleviate someone's loneliness

Peter Stewart, Chief Purpose Officer, Eden Project
Find support for your community
If you're looking to support your community, start a community initiative or just explore what other communities are doing, we've got everything you need to get started. We can help you access extra help and give you ideas for getting started with projects and details of our network on the ground.
Hungry for more?
Sign up to our newsletter for a monthly dose of fun ideas, handy information and inspiring good news stories.