Tips for a safe and inclusive Big Lunch
Seeing your community come together to share food and chat to one another is one of the real joys of hosting a Big Lunch. Whether your event is a big community gathering or some tea and cake with your neighbours, here are some things to ensure your Big Lunch is safe and inclusive for everybody.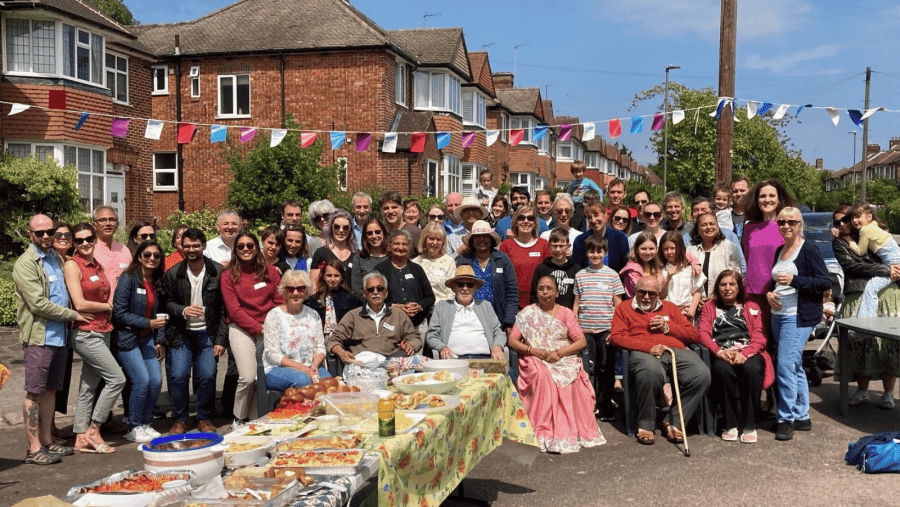 Help people to feel welcome and included
A warm welcome can really help people feel at ease, especially if they're nervous about attending a Big Lunch for the first time. Make sure your event is well signposted and consider creating a cheerful, welcoming setting wherever you are with simple decorations.  
If lots of people are meeting for the first time, you could have name badges for people to fill in. Our Conversation Menus and Human Bingo (in the Big Lunch pack – get yours now) are perfect to pop on tables to help break the ice. 
Being clear in advance about what will happen at the event, the start and end time and when food will be served can help to manage expectations. Make sure there's plenty of comfy seating (have a bring your own camping chair or picnic blanket policy) and space for people to move around. 
For more information, have a look at our tips for establishing an inclusive community. 
How to establish an inclusive community 
Think about food hygiene
If you're planning to have food at your Big Lunch, the Food Standards Agency have put together some brilliant tips on how to ensure your street party food is safe and enjoyable for all. 
They include: 
washing your hands regularly, especially before handling or eating food

 

keeping surfaces clean and sanitised

 

planning ahead to keep food cool and not leaving chilled food out for more than four hours

 

avoiding cross-contamination by keeping raw ingredients, ready-to-eat food and food allergens apart
Read the full advice on food safety 
Health and safety
Some councils may ask you for a risk assessment for your community event, and even if not, it can be useful to complete one ahead of your event so you've considered anything that might go wrong. We've got a handy risk assessment template – they're not as scary as they sound! 
You may also want to get insurance for your event, and sometimes it will be required by your local council. Although it's unlikely that something will go wrong, it will be easier to have fun if you know you're covered. We've got a special offer for insurance for your Big Lunch from Creative Risk, and it's not too late to get it sorted! 
Be vigilant and keep your event safe
Especially if you're hosting a bigger event, it's worth being savvy about some of the wider issues out there. Our friend Rob from the National Counter Terrorism Security Unit has put together some quick tips to help minimise any risk and ensure your Big Lunch is safe.
Be vigilant and report any unusual or suspicious activity at your event. In an emergency call 999.
Don't leave your house unlocked during the event and ensure your belongings are secure.
If road closures have been applied for then consider using carefully parked (and locked) vehicles to slow and block any unauthorised access (ensure there is the ability to quickly move the vehicle to facilitate emergency service access).
Have first aid provisions available at your event and ensure you and other hosts are aware on how to use the kit. We recommend reading the police First Aid Guidance.
Have a plan of what to do in an emergency and communicate this with those at your event. Agree in advance that everyone takes responsibility for their safety and security, and helps to watch out for each other.
If you're hosting a larger event, Counter Terrorism Policing have put together a vigilance communications toolkit to support you and your guests.