Sam's Summer Feta, Red Onion and slow roasted tomato tart
This delicious veggie tart is quick and easy to make, great for summer and perfect for The Big Lunch!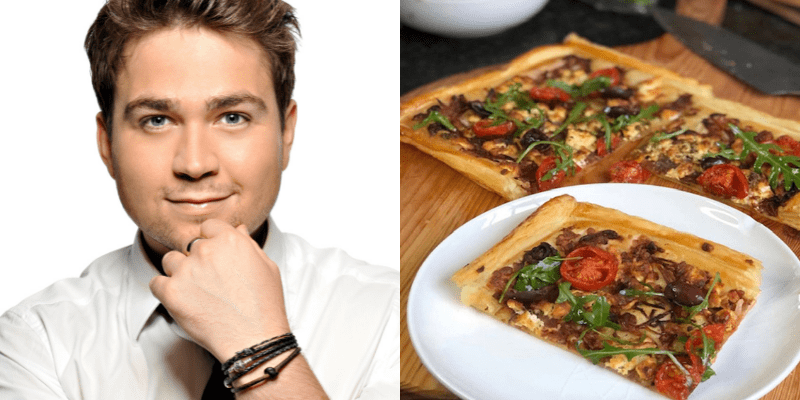 Ingredients
6 cherry tomatoes
1 block of feta
1 tbsp dried oregano
8 tbsp olive oil
2 tbsp red wine vinegar
1 clove garlic
1 red oinion
Knob of butter
1 sheet ready rolled puff pastry
1 egg
Small handful of olives
Rocket
Method
Step 1
Cut 6 cherry tomatoes in half and place them on a baking tray. Season with salt and pepper and a drizzle of olive oil. Roast in the oven (160 degrees fan) for 1 hour. Do this in advance.
Step 2
Thinly slice the red onion and slowly fry it on a low heat in a little olive oil and a knob of butter for about 20 minutes. Frying them low and slow will make the onions really sweet.
Step 3
Next mix together the oregano, garlic, olive oil and red wine vinegar then pour it over the full block of feta.
Step 4
Take the puff pastry sheet & trim about a cm of the pastry off with a knife from all 4 sides. Place pastry on a non-stick baking tray. Give all 4 sides of the pastry an egg wash & stick the cm strips you cut off on – to create a slightly raised border.
Step 5
Once the onions have cooked and cooled spread them thinly across the base of the pastry. Now crumble over the feta and drizzle a little of the dressing on top. Bake in the oven at 180 degrees (fan) for 30 minutes.
Step 6
Now place your slowly roasted tomatoes on top and halve the olives and scatter those on top. Lastly sprinkle over your rocket leaves to finish off your feta, red onion and slow roasted tomato tart. Can be enjoyed warm or cold.