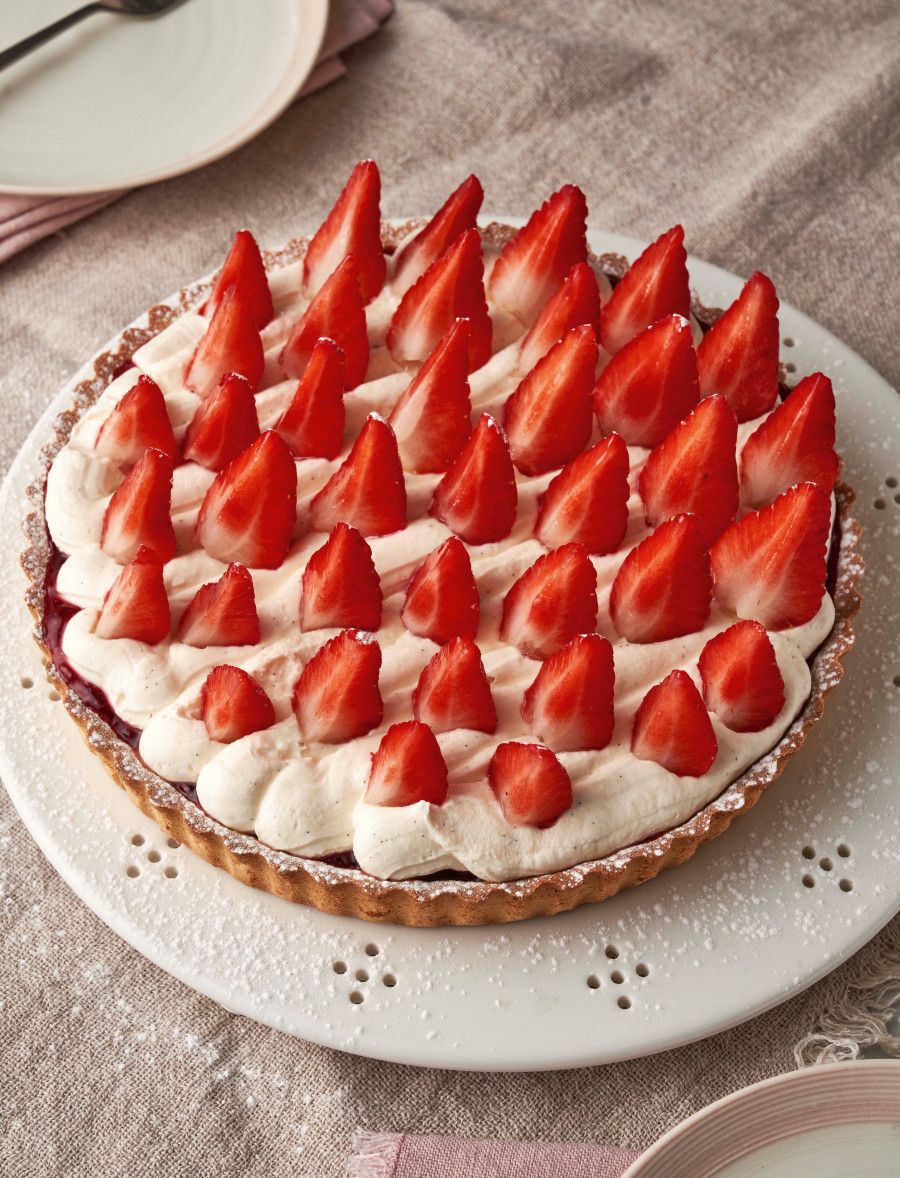 Raymond Blanc's Strawberry and Mascarpone Tart
"Light, crisp and with a blend of strawberries, mascarpone creaminess and raspberry jam, this is an excellent tart for a summer's day. It is a sweet conclusion to a barbecue, or a treat to pack in a picnic. Make your own pastry, or keep things simple and go for a shop-bought, prebaked pastry case."
If using shop-bought pastry for your strawberry and mascarpone tart, a little tip: place the pastry case in an oven preheated to 180°C/160°C fan/gas 4 until it has achieved a golden biscuit colour. By baking it again, you bring the pastry back to life – adding colour, texture and, ultimately, flavour. Small pastry tartlet cases can also be used.
1 shortcrust pastry case, precooked, about 20cm diameter (shop-bought or make your own)
Icing sugar, for dusting
 For the filling:
400g strawberries
500g mascarpone
50ml double cream
1 teaspoon vanilla bean paste or vanilla essence
½ lemon
200g raspberry jam, preferably seedless
Method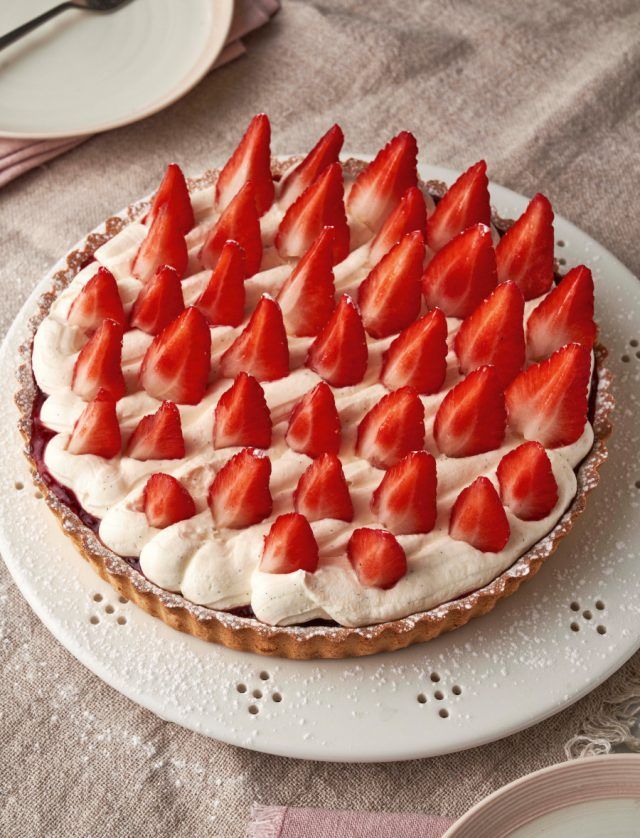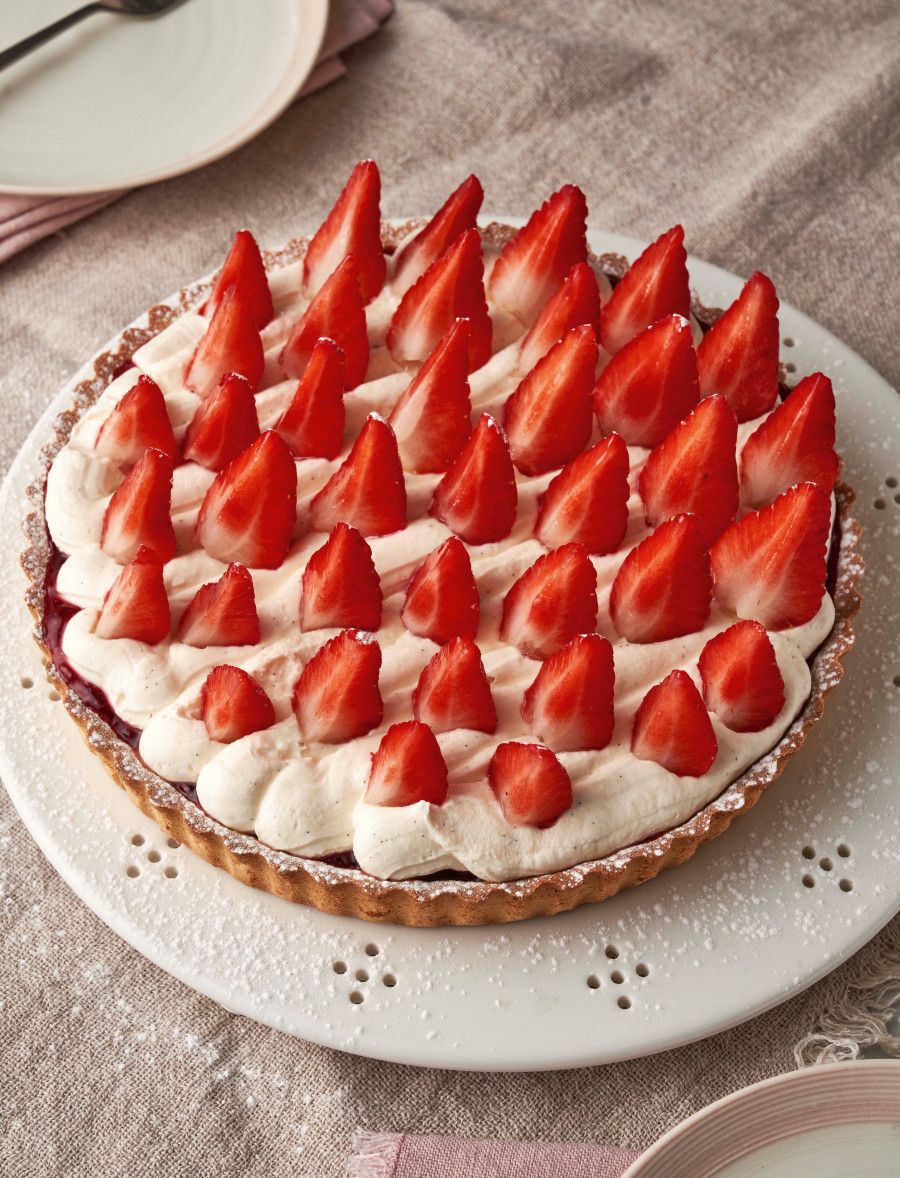 Step 1
Wash and hull the strawberries
Step 2
In a large bowl, mix the mascarpone, double cream and vanilla paste and add the zest of the lemon half. Put aside.
Step 3
Spread the raspberry jam onto the base of the pastry case. Spoon half the mascarpone mixture over the top of the jam and spread it over the tart – don't worry if it mixes with the jam.
Step 4
Now spread the rest of the mascarpone mixture on top. (Use a piping bag to pipe the mascarpone onto the jam, if you prefer.)
Step 5
Next, the decoration of this summer tart. How should you cut the strawberries for the top? It's your choice – you can try slices, halves or quarters. Or if you have lots of small strawberries, leave them whole and stand them upright on top of the tart.
Step 6
Once you have decorated the top of the tart with the strawberries, and if you have time, transfer the tart to the fridge for up to 1 hour. Chilling the filling means neat slicing.