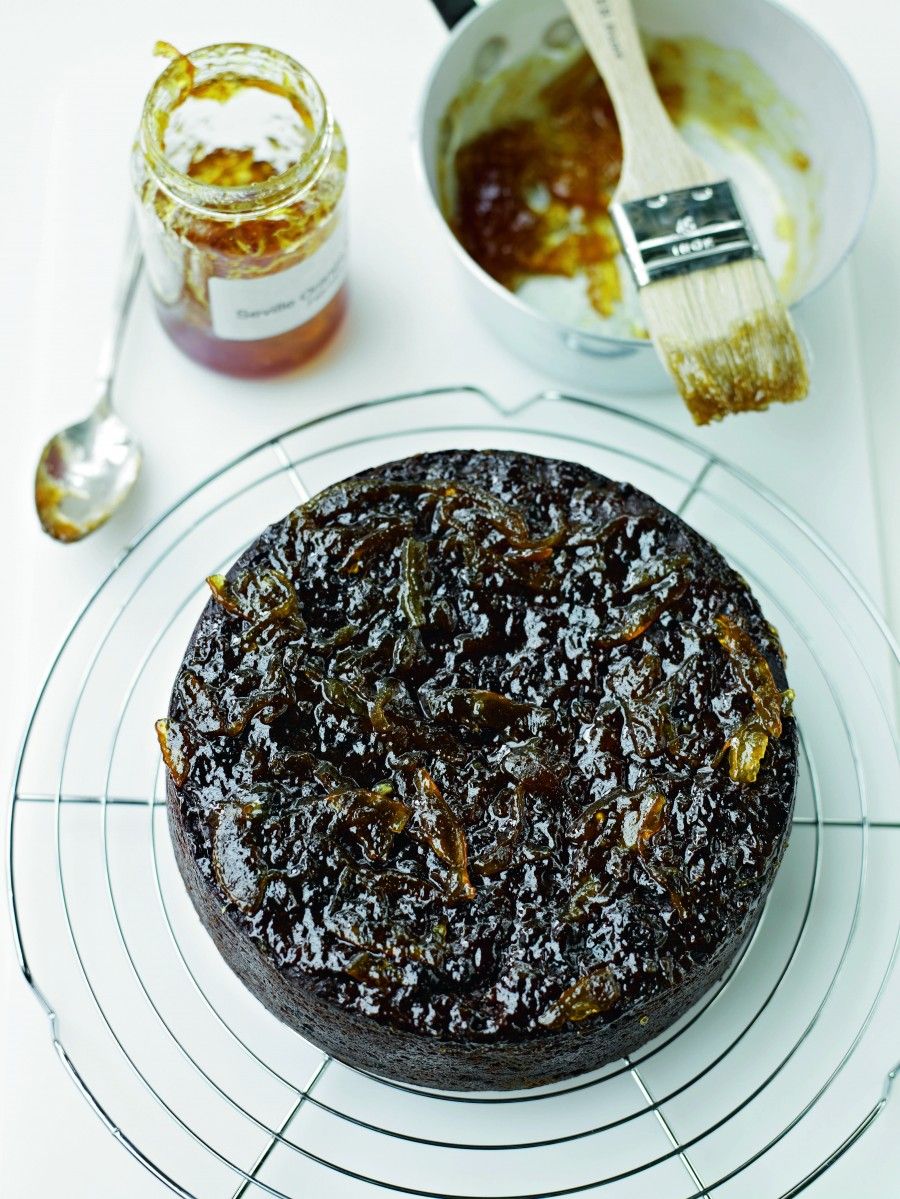 Delia's Sticky Prune and Date Cake
An unequivocal winner! Dark, sticky, very moist, keeps like a dream and has always been hugely popular with everyone who makes it.
Ingredients
For the glaze:
1½ tablespoons marmalade
½ tablespoon water
For the cake:
175g dates, stoned and chopped
125g ready-to-eat prunes, chopped
75g raisins
75g currants
200g block butter
200ml water
300g condensed milk
110g plain flour
110g wholemeal flour
pinch of salt
½ level teaspoon bicarbonate of soda
1 rounded tablespoon chunky marmalade
You will also need a 20cm loose-based cake tin, base and side lined.
Method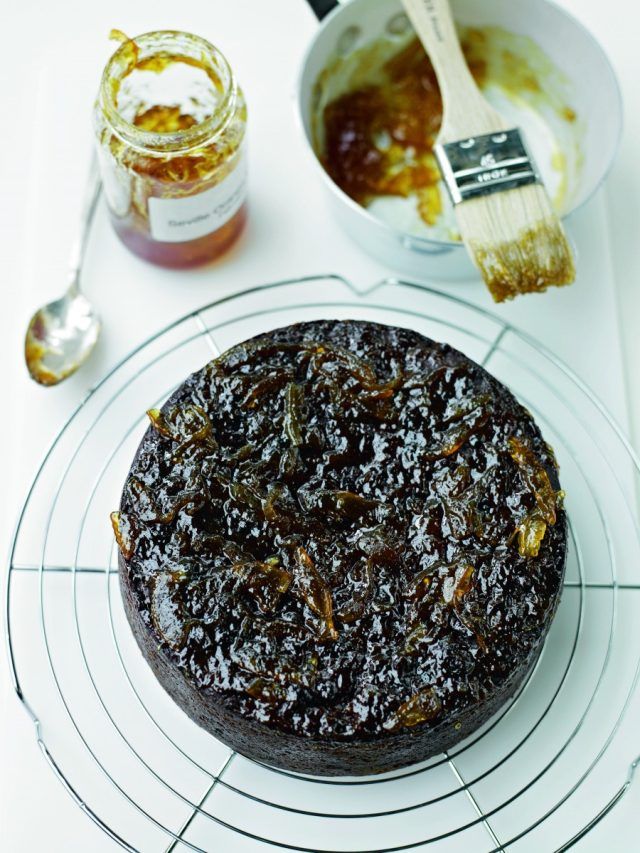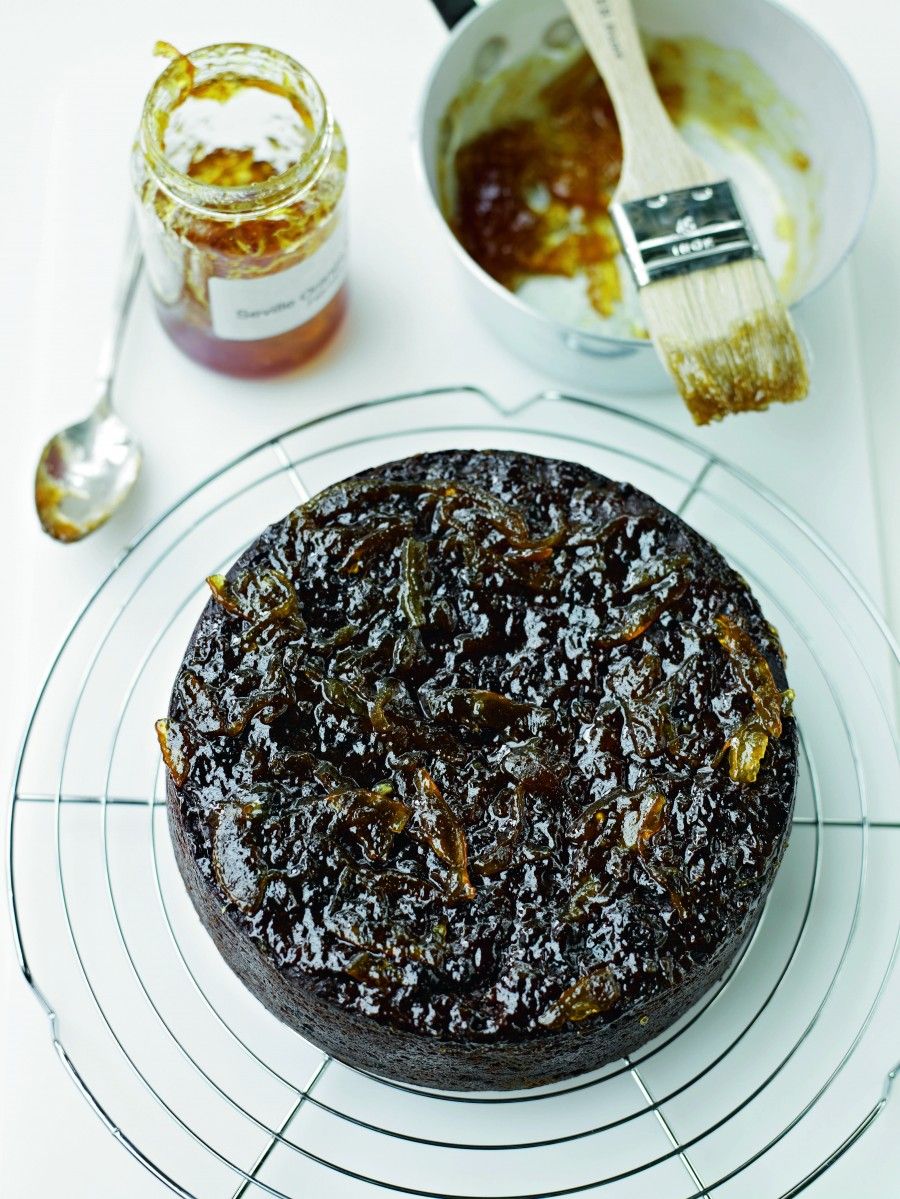 Step 1
Pre-heat the oven to 170°, Gas Mark 3.
Begin by placing all the fruits, the butter, water and condensed milk in a saucepan, then simply bring it to the boil, stirring quite frequently to prevent it sticking.
Let the mixture simmer for 3 minutes exactly – still stirring occasionally and, whatever you do, don't forget it! Now transfer the mixture to a large mixing bowl, to cool off for about 30 minutes.
Step 2
While it's cooling, weigh out the flours, then sift them onto a plate, adding the salt and bicarbonate of soda. (When you sieve wholemeal flour there are usually some bits of bran left in the sieve, so just tip them back into the rest of the sieved flour.) When the fruit mixture has cooled, stir the flour, salt and bicarbonate of soda into it, adding a nice round tablespoon of marmalade too.
Step 3
Then spoon the mixture into the prepared tin, level it off with the back of a tablespoon and bake the cake on a lower shelf so that the top of the tin is aligned with the centre of the oven for 1 hour and 50 minutes. Have a look halfway through, and if the top of the cake looks a bit dark put a double square of baking parchment on top to protect it. Then let the cake cool in the tin for 5 minutes before turning it out to cool on a wire tray.
Step 4
When the cake is completely cold, gently heat the marmalade in a small saucepan with the water. Then brush it all over the top of the cake. Store in an airtight tin.
Watch Delia's Cookery School Family Cakes video lesson to learn how to make Sticky Prune & Date Cake.