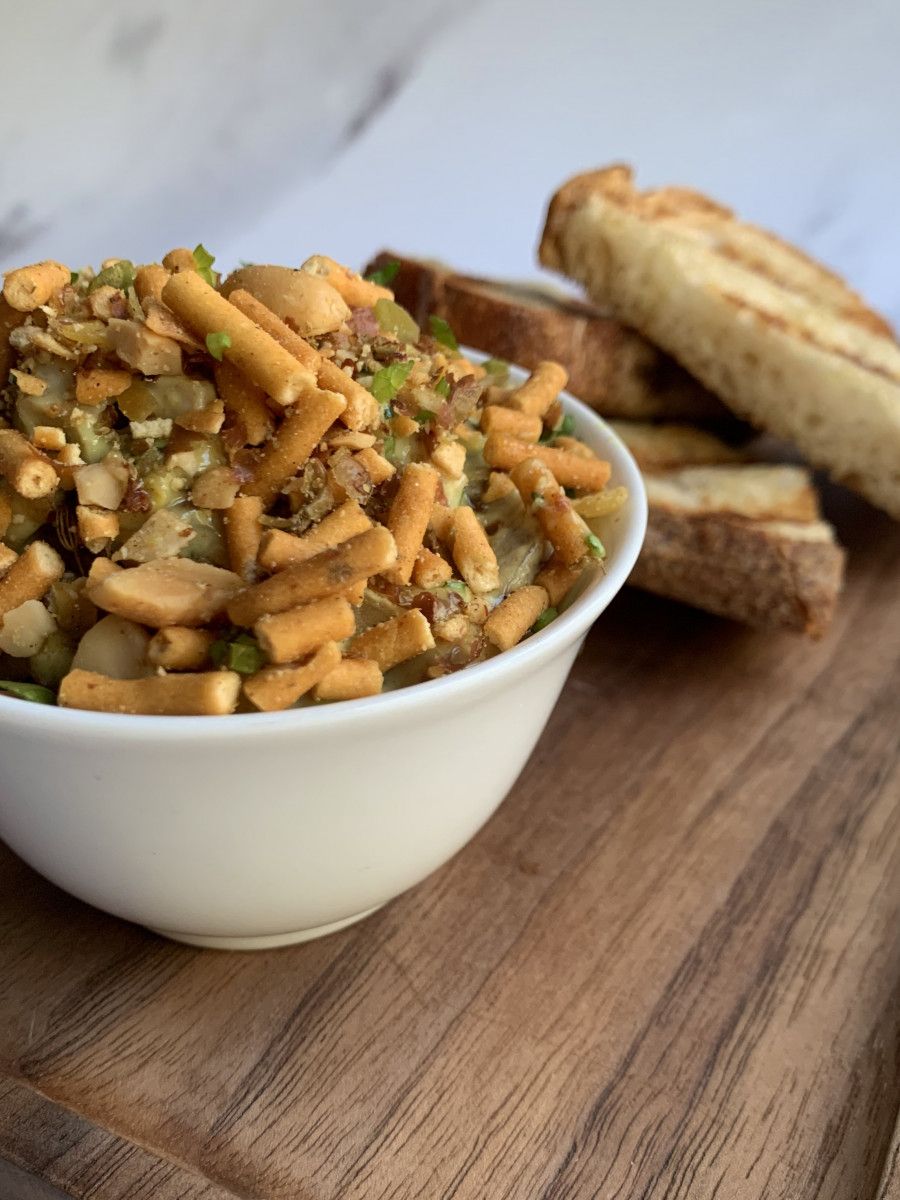 Coronation Chicken by Heston Blumenthal
This is a reworking of Coronation Chicken that Heston created for the Diamond Jubilee in 2012. It was served at the Buckingham Palace Garden party that year. The original dish was created by Constance Fry in 1952 to commemorate the Queen's coronation.
Ingredients
6 boneless skinless chicken thighs
500g water
50g salt
1 bay leaf
2 sprigs of thyme
1 sprig of rosemary
1 clove of garlic (crushed)
1 lemon
20g raisins
20g sweet wine or cider
For the curry mayonnaise
150g mayonnaise
1 tsp good quality curry powder
A good splash of worcestershire sauce
A small splash of chardonnay vinegar
2 tbsp good quality mango chutney
1⁄2 tbsp Dijon Mustard
A pinch of cayenne pepper (or to taste)
Garnish
Handful of bombay mix
Handful of smoked almonds
1 tsp of finely chopped coriander
PLUS 2 slices of grilled campaillou bread or good quality sourdough
Method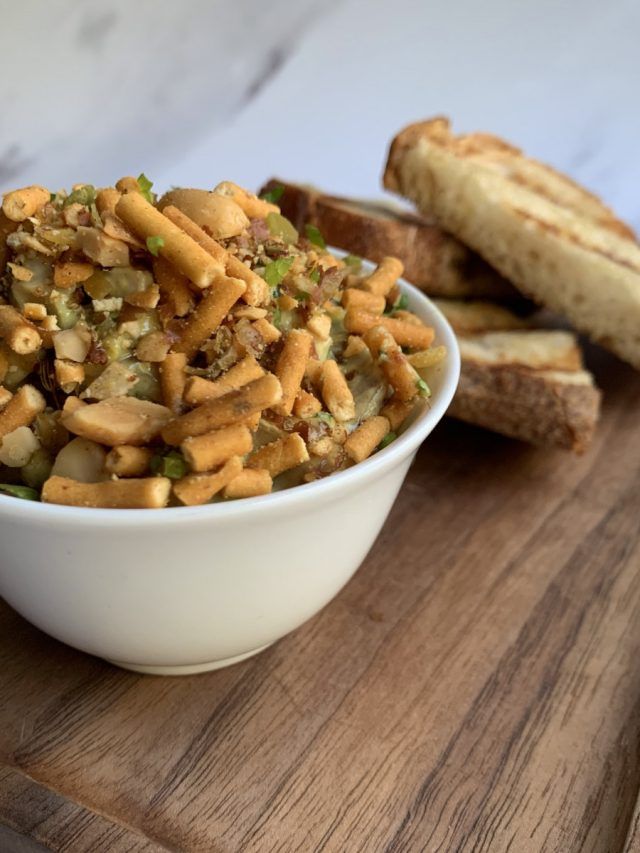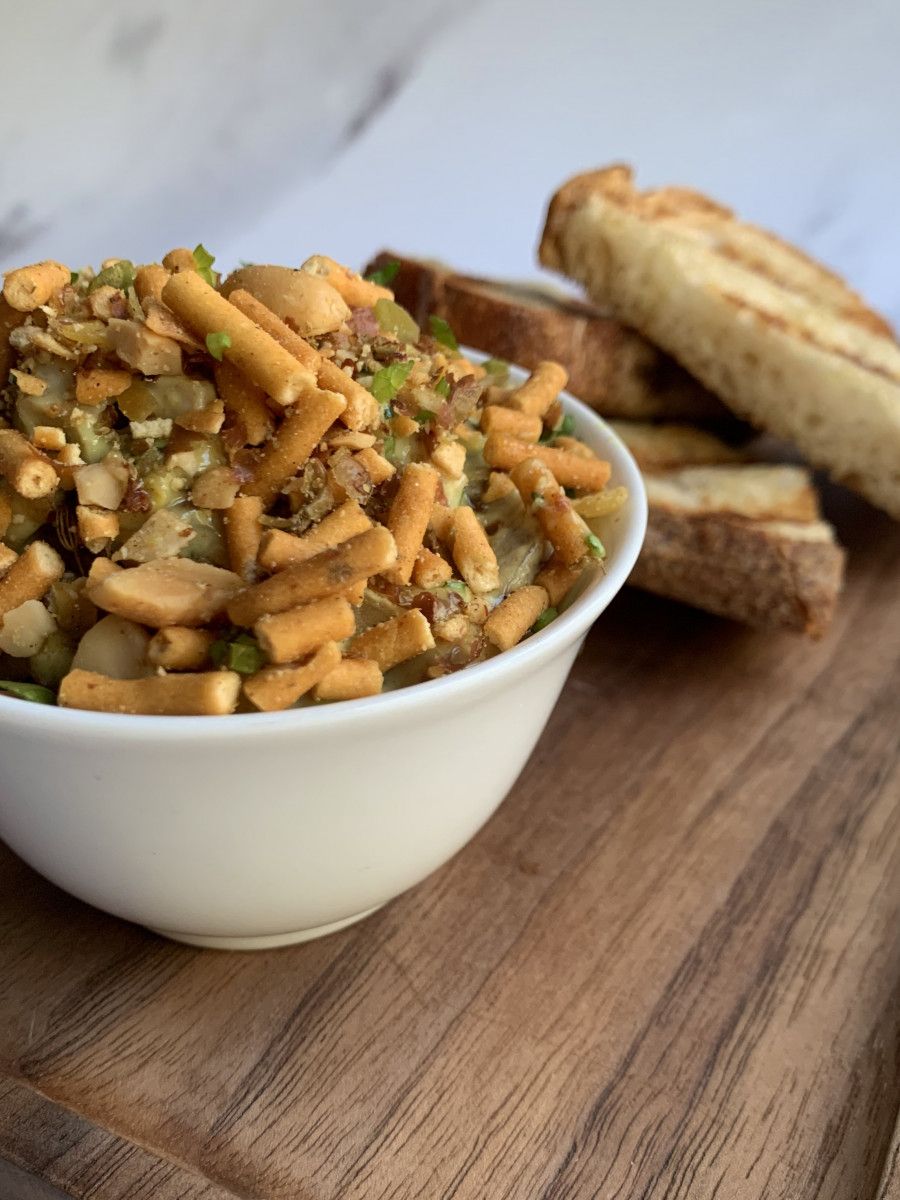 Step 1
Prepare brine by combining the water and salt until all the salt crystals are gone. You may need to heat it gently to dissolve all the salt. Let it cool completely before adding the herbs. Leave for at least an hour but the longer the better.
Step 2
Pass through a sieve then use enough to cover your chicken thighs. You can keep any remaining brine in an airtight container should you wish to make this again.
Brine for 4 hours, rinse the chicken in cold water for 1 hour, changing the water a few times.
Step 3
Drain and pat dry the chicken. Heat a large flat pan on the hob. Add a tbsp of oil and the crushed clove of garlic and place the chicken thighs into the pan and cook until golden on both sides and any juices from the chicken are clear.
Finish with a squeeze of lemon juice.
Step 4
Once cooked leave to cool out of the pan for at least 15 minutes then place in the fridge until completely cooled down.
Step 5
When cold, dice the chicken in 1cm cubes. Place back in the fridge until needed.
Step 6
Put the raisins and the sweet wine or cider in a small pan and warm until just simmering then remove from the heat and leave to infuse for 15 mins so the raisins are plump and soft.
Step 7
Combine all the mayonnaise ingredients until smooth and even texture then add the infused raisins to the mayonnaise.
Fold the chicken through the mayonnaise mixture to coat evenly and season with salt and pepper to taste.
Step 8
Toast your bread evenly and spoon the chicken mixture into a small bowl and top with the Bombay mix, smoked almonds, and coriander. Serve all together.
Many thanks to Heston for sharing this beautiful recipe!