Carlisle Council
Carlisle, the 'urban capital' of the County of Cumbria in NW England, has a council which has been supportive of The Big Lunch since it started in 2009.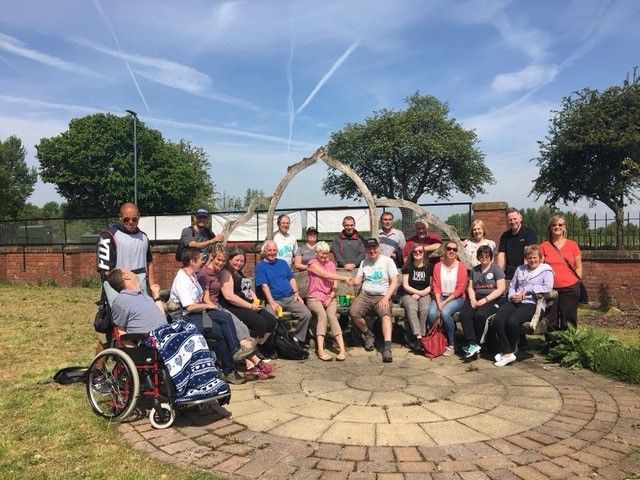 Supporting The Big Lunch in a BIG way
The council decided to support The Big Lunch because of the obvious links with many of its key strategic priority areas: spanning across food, health, sustainability and community development.
Joanna Coleman, City Councillor for Carlisle explains: "The Big Lunch is a catalyst for social change.  We've seen how it helps neighbours get to know each other and reduce social isolation and loneliness. But not just on the day itself, it's also through the build-up and all the things that started happening after – like babysitting and car-sharing clubs and support groups being set up. The Big Lunch is a low cost, and cost effective approach to community development and tackling health outcomes in communities all at the same time – as well as it being really fun – and that's why we're right behind it, right across Carlisle."
The Carlisle Partnership brings together strategic partners and stakeholders from all sectors to tackle the area's most pressing issues. A priority subgroup of the partnership – 'Food Carlisle' – made The Big Lunch a key project for 2019.
A partnership approach
Food Carlisle has set up a Big Lunch task group to manage the project, with representatives from wide and varied backgrounds including: district and county council officers and councillors, council teams including green spaces, health and community development officers, local voluntary organisations, community centres, charities and businesses and the Carlisle Partnership.
The purpose of the task group is to help address loneliness and social isolation across the district through engaging partners who can spread the word and help facilitate Big Lunches.
Spreading the word
The council set up a dedicated Big Lunch webpage, with information for event organisers, including details on how to apply to close roads, and they're also active on social media and in local press. Community development officers work in partnership to get the word out to local communities.
The task group also looks at how The Big Lunch can be linked to other initiatives, including:
Voluntary organisations holding events to grow connections with volunteers.
Organisation-led Big Lunches to building stronger connections within teams
Getting groups to come together to hold joint events to celebrate community bonds forged during some of Carlisle's recent challenges; including the severe flooding in 2005 and 2015, and Storm Emma which brought the worst snow forecast for 65 years in 2018
Food Carlisle directly linking The Big Lunch to the aims of the Food Charter and Sustainable Food Cities Bronze Award status
Representatives from the task group are unanimous in their view that The Big Lunch has a powerful impact on its communities.
"It's such a fantastic way to bring communities together and help to reduce social isolation, which is something the district can struggle with due to its mix of urban and rural areas. The Carlisle Big Lunch Task Group shows how important bringing together our communities is, not just to our residents, but also our multi-sector organisations and businesses who have come together in partnership to support or facilitate a The Big Lunch event."

Cllr Lee Sherriff, Portfolio Holder for Communities, Health and Wellbeing, Carlisle City Council
Top tips for councils
from Carlisle Council
Take a partnership approach so all sectors are involved and communication is wide-reaching
Get your area or neighbourhood teams involved
Target neighbourhoods where you want to see social change
Get decision makers on board (perhaps hold an internal Big Lunch for inspiration!)
Get support from local businesses to help spread the word for free
Put yourself in residents' shoes and provide the information that they need