How to fundraise with The Big Lunch
Raise money for a cause that matters to your community. These top tips can be used throughout June's Month of Community and all year round!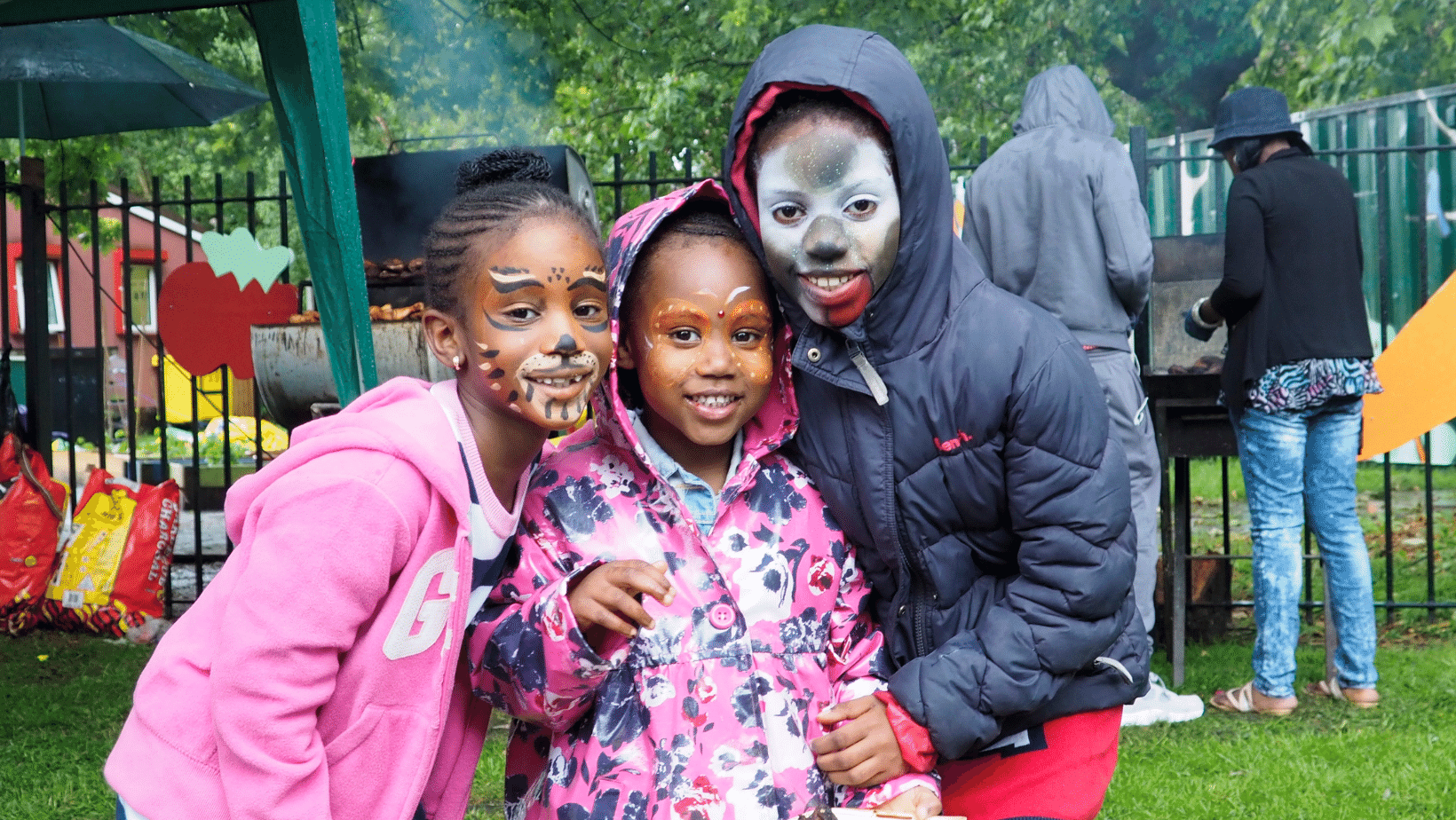 Did you know the Eden Project is a charity?
If you'd like to help us have a bigger impact in communities like yours across the UK, we'd be delighted if you chose to raise money for the Eden Project's charitable mission! You can create a page via JustGiving to share with your attendees and securely raise money for Eden through your Big Lunch.
You can also support another charity close to your heart on JustGiving. Simply create a fundraising page and select your chosen cause. When asked how you are fundraising, you can choose 'The Big Lunch' from the 'Taking part in an event' menu.
Top fundraising ideas:
1. Raffles, tombolas and sweepstakes
Lotteries held at events are classed as 'Incidental Lotteries' – this means they don't require licensing or registration*. These are an easy way to get people to donate to your cause, as there is the lure and excitement of potentially winning! Check out some of the different types of raffles.
*Gambling regulations don't apply if tombola or raffle tickets are sold on the day and the prizes aren't worth more than £500 in total. Read the legal know-how.
2. Car boot sale
Who doesn't love a mosey around a car boot sale? You could take your unwanted items to an organised car boot sale, or do it solo and put your items out front for a 'yard sale'. Could you put up a stall at your Big Lunch for people to buy items, and put your proceeds to your project or charity? You could even ask attendees to bring in something to sell that they no longer want, too!
3. Pub quizzes
Whether you do it at a pub, or on the day of your Big Lunch, quizzes are a fun way to ignite people's competitive streaks. All the while raising money for your special cause.
4. Apple bobbing
Get one of your 5-a-day while having a dunking-good time! This is a great one to entertain kids.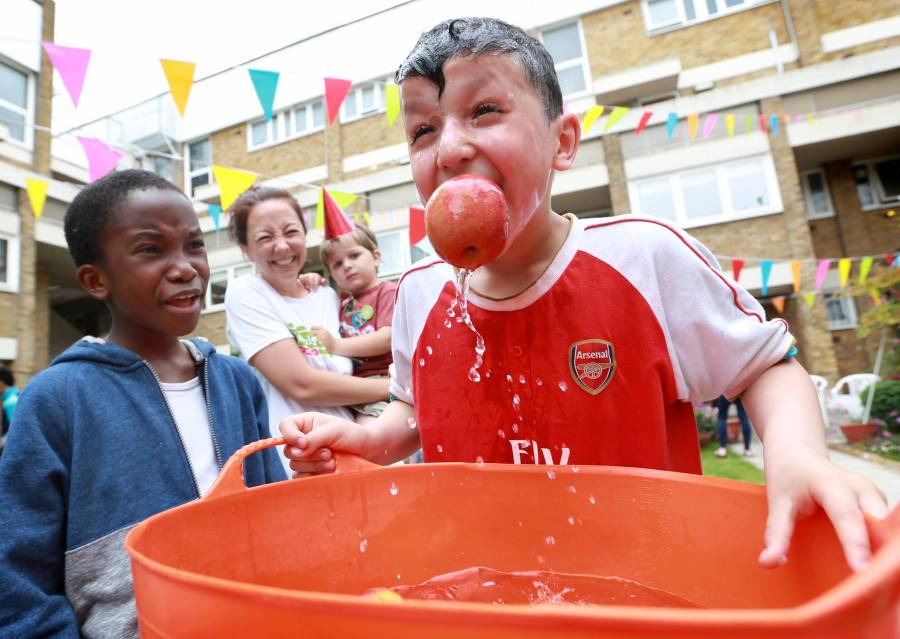 5. Treasure hunts
Another fun activity for families – kids will be thrilled with the adventure of a treasure hunt that they could complete with their mums, dads, grandparents, caretakers or friends. Maybe you could even encourage families to dress as pirates to add to the theme! This could be a good activity post-Big Lunch, walking off all the lovely food you've just eaten!
Just charge a small entry fee to enter as either teams or individuals. The main purpose is to keep it fun. Leave clues around for the treasure hunters to uncover and help them hunt for and find all of the things you are hiding.
6. Wet sponge throwing
Throwing wet sponges at people is a very easy fundraiser to organise and will prove a popular activity at your Big Lunch! For really successful sponger games you need to get the right person manning the stalls. A larger-than-life character who can attract people to have a go…
These fundraising games need to be talked up so call your stall something imaginative. Soak The Sucker! Or Drown the Drip! Or Punish The Principal!
Children particularly love it when you strike a mum or dad on the cheek and you can imagine it can make quite a lot of money in a short space of time!
7. Bingo
Another good fundraiser is Bingo – you could split half the money with your Big Lunch Fundraiser and half to the winner. We all know how bingo works, but in terms of making it successful, it makes sense to have a headline prize that has a 'Wow Factor' to entice people to play.
Savvy organisers will often seek out local businesses who will supply prizes in exchange for a mention or a spot of advertising at your Big Lunch. The basics you'll need are: bingo singles, bingo balls, bingo pens and a bingo cage.
Did you know?
In 2023, a whopping £14.4 million pounds was raised at Big Lunches across the UK. And the majority of that was for local charities and causes. Well done Big Lunchers! If you'd like to help us have a bigger impact in communities across the UK, we'd be delighted if you chose to raise money for the Eden Project's charitable mission!
8. Bake off
Challenge your friends to a bake-off, and then sell the bakes to raise money. Take a look at some of the recipes on our website for ideas! Choose bake categories or themes for your bakers. If you need some help, you could ask your local shops or bakeries if they'll donate some delicious goods for your event.
9. Dog show
The perfect excuse for dog-parents to show off their beloved fur-kids. This could be a low-cost activity to increase your proceeds to charity – simply charge an entry-fee and give the winners rosettes.
P.s. it might be an idea to give every dog a rosette or prize, dog-owners might be a bit miffed if they come away empty-handed!
P.p.s. Dogs very much enjoy participating in Big Lunches.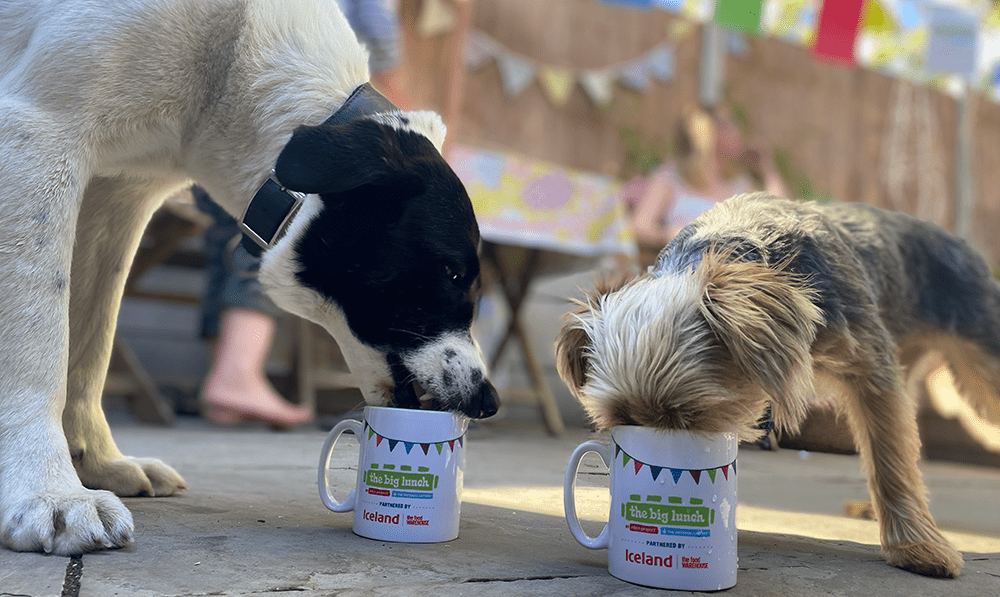 10. Fancy dress day
Encourage people to pay a fiver (or even a couple of quid) to be whoever you want for the day! Having a fancy dress at a Big Lunch is a fun way to fundraise and it'll create an excellent atmosphere to your day. And what's more, they're super easy to organise – just put out the word, and let the people come as they will!
11. Guess the weight
A simple yet effective fundraising activity! Ask people to donate to guess the weight of a cake, your cat, a jar of sweets or even a prized vegetable! A spin on this could be guess how many sweets of in a jar.
12. Face painting
For this fundraising idea, you'll need face paint, brushes, and a volunteer with enough artistic ability to paint designs. Have a flat-rate price for face painting, and let your customers pick what designs they want to be painted. You can have a donation jar for the parents that wish to give more to your chosen charity.
13. Copper kilometre
This is an old-school activity, but great fun! Two lines of coppers are made up each pavement, and the aim of the game is to see who has the biggest line of coppers or whoever finishes a pavement first. Teams are only allowed to use 1p, 2p and 5ps. Roughly it can raise around £150, £200! All it takes is for you to get two groups who compete against one another who bring along with them a lot of spare change they don't mind donating.
14. Plant swap or sell
In the past few years, we have seen a lot of people growing and sharing seeds and plants (mainly due to lockdown) but did you know, it also makes a really good fundraiser too! Do you have plants in your garden that you're proud for people to see? Then why don't you sell some of these, and encourage others to do so too? There are so many enthusiastic gardening groups out there who you could attract to your Big Lunch!
Choose a partner charity to fundraise for
If you're trying to find a small charity to support, then look no further than our Month of Community partners Small Charity Week. You could also ask around locally for initiatives near you, or which have supported your community.
If you want to hold a Big Lunch as part of Small Charity Week, register your event, to get it listed on the Small Charity Week website and download their free resources to help promote it on social media. Or, take a look at their events listings to see what's happening near you.